What Time Is It,
Mr. Crocodile?


by Judy Sierra
illustrated by Doug Cushman

Mr. Crocodile is determined to make a feast of the five little monkeys that have been pestering him. He creates a schedule for catching, cooking and eating the monkeys, but his plans are thwarted again and again by the clever little primates. Each illustration includes a clock displaying the corresponding time, making it great as a read-aloud when teaching children how to tell time.

Judy Sierra's "considerable storytelling skill" (School Library Journal) is well complemented by Doug Cushman's hilarious acrylic illustrations.  Although this story can certainly stand on its own, the inclusion of a clock in every spread makes it an excellent book to use when teaching about time.
This book is popular with teachers and Amazon customers as well as review agencies like School Library Journal and Booklist. In a starred review, Kirkus Reviews said "Cushman... captures the monkeys' energy...to make any time the right time for this irresistible rhyme."


Reading Levels
Interest:  PreS-Gr.3                DRA Level: 24                  Lexile Measure: 940L
Grade Equivalent: 2.7           Guided Reading: M


See inside
Below are sample spreads from inside What Time Is It, Mr. Crocodile?  The first spread below depicts Mr. Crocodile writing out his schedule for the day--starting ordinarily enough but ending with a planned feast of "those pesky monkeys."  The second sample spread below is about midway through the book and shows the monkeys pestering Mr. Crocodile.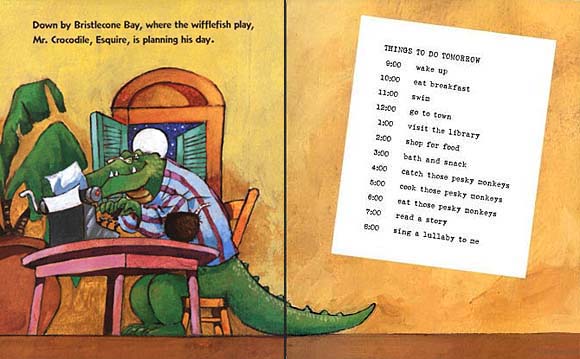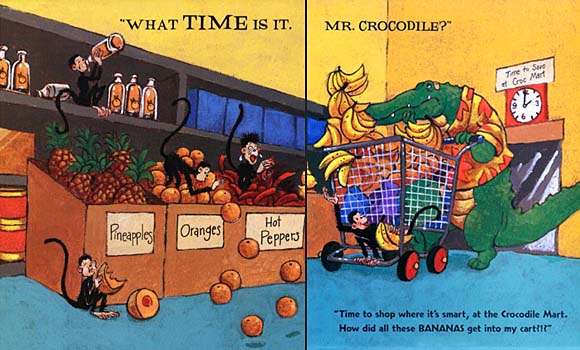 Where to now?
Now that you've seen this great book, what would you like to see now?  Please note that as an Amazon Associate, we earn from qualifying purchases.