What Pete Ate
from A to Z

by Maira Kalman
This is definitely one of those alphabet stories that will appeal to adults as well as children! It features a cute but culinary curious little pooch who "devours a myriad of items which he should not."
As the book unfolds, his astonished owner lists the items in alphabetical order, mixing in several other items for each letter as well. He eats "An accordion. All of it."; a glue stick-- "Gooey gluey dog", even a pair of "underpants. Uggh!"
Kids will love this hungry little dog's antics, and adults will appreciate looking at a picture book with more sophisticated illustrations. (We wonder if she also creates illustrations for The New Yorker because her illustration style would fit right in!)
A School Library Journal and Publisher's Weekly Best Book of the Year!



Reading Levels
Interest Level:  PreS-Gr. 2         DRA Level:  24                 Lexile Measure: 700L
Grade Level Equiv:  3                Guided Reading: M 



See inside
Below are sample spreads from inside this book.  To see larger versions of these spreads (AND MORE), click on any of the images below.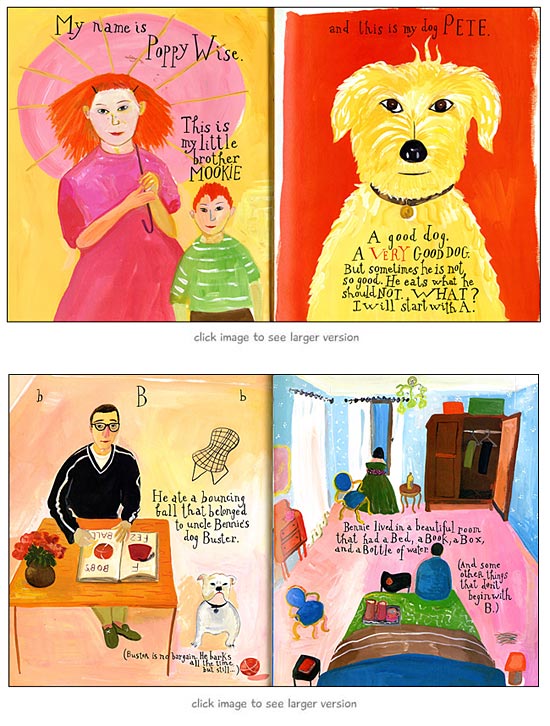 To learn more about this book, click the link below.  Please note that if you purchase an item from Amazon, they give us a small referral fee. (This helps pay for site hosting costs, thus allowing us to keep everything free for site visitors!)


What Pete Ate Lesson Idea

After reading this book, have your students make their own ABC book of additional items that Pete ate --OR-- an ABC book of items that their own pet ate. Encourage them to be creative and if it's for their own pet, to think of funny items in their own house to include. This would work for children who are just learning their alphabet letters or as an activity to encourage creativity with older children.

To make the blank books, cut 8.5x11 blank pieces of paper in thirds with a large paper cutter, fold the strips in half, bunch strips together to create 24 blank pages, add an extra one for the cover, and staple on the end. (To save yourself some time, you can precut the paper and have the students count out and staple their own.)

---
We love Maria Kalman's illustrations!  You might want to check out other great children's books that she has written and illustrated. To learn more, click on the images below or click here.  :)