What Happened to
Patrick's Dinosaurs

by Carol Carrick
illustrated by Donald Carrick
As Patrick and his brother are raking leaves, Patrick provides a fantastical explanation for what happened to the dinosaurs--essentially, they used to live in harmony with people but got frustrated when the humans didn't want to learn (preferring only recess and lunch) so they built a spaceship and flew away.

In response to Patrick's fantastical tale, Hank, his older brother, then provides scientific explanations. Full of brightly colored, imaginative illustrations and lots of good dino-details.

"For sharing and laughing over together, or for independent reading, this superlative partnership of text and illustration will satisfy even the most passionate dinosaur buffs." (School Library Journal)

An American Library Association Notable Children's Book!


Reading Levels
Interest Level: K- Gr. 2              DRA Level:  18                  Lexile Measure: 540L
Grade Level Equiv:  3.3            Guided Reading:  K


See inside
Below are sample pages from inside What Happened to Patrick's Dinosaurs: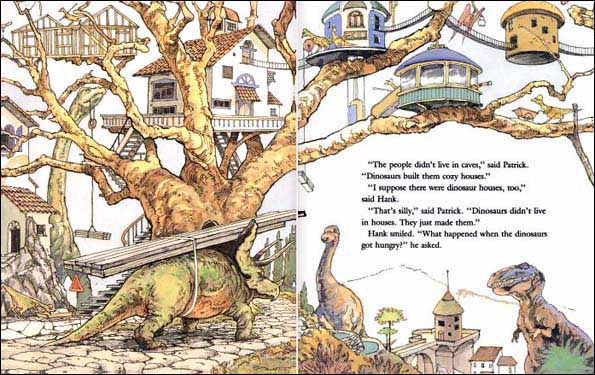 Where to now?
Now that you've seen this great book, what would you like to see now?  Please note that as an Amazon Associate, we earn from qualifying purchases.