What Grandmas Do Best and

What Grandpas Do Best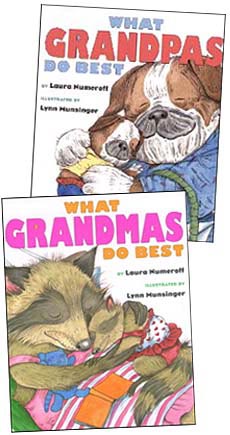 by Laura Numeroff
illustrated by Lynn Munsinger
This is actually two books about grandparents in one! Once you finish reading one of them, just flip the book over and you have the second one!  In their review of these books, Publisher's Weekly said "every spread radiates with the gentle and abiding affection that connects the generations." And School Library Journal adds,  "These warm, cheerful vignettes are sure to resonate with children."

These books are part of a series by Laura Numeroff, author of the immensely popular If You Give a Mouse a Cookie series. Other books in this series cover what mommies/ daddies do best and what aunts/uncles do best (both also two books in one).
Reading Levels
Interest Level:  PreS-Gr. 1              DRA Level:  14          
Grade Level Equiv:  1.3                  Guided Reading:  H


See inside
Here are some pages from inside these adorable grandma & grandpa books--to give you an idea of the illustration style and also to show the text is quite minimal.
Each spread is devoted to one activity, as you can see in the small examples at
the top of this page. We included pages from two different spreads below to
show how different animals are used for the grandma/grandchild pairings. Cute!


Where to now?
Now that you've seen this great book, what would you like to see now?  Please note that as an Amazon Associate, we earn from qualifying purchases.

---


You may also want to check out other books by Laura Numeroff, particularly the "If You Give a Mouse a Cookie" series.  Kids LOVE them!  To learn more about Numeroff's great kids books, click the book covers below or the link above. :)