Vunce Upon a Time by J. Otto Seibold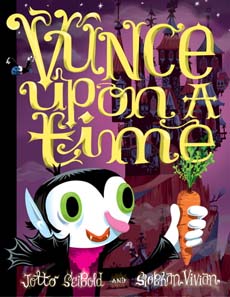 Vunce Upon a Time is so adorable!  It tells the story of little Dagmar, a shy little vampire who is actually afraid of humans!  But, he also LOVES candy, so when he finds out what trick-or-treating is all about, he decides to face his fears and venture out into the human world. This book is by the author and illustrator team who brought us the magical Olive, the Other Reindeer. Don't miss this adorable book!
Publisher's Weekly called Dagmar "a promising holiday icon" and School Library Journal calls it "filled with kid-pleasing details. A fresh spin on Halloween." We love the story, although admittedly not as much as Olive the Other Reindeer.  It's Vivian's bold, funky art that really makes this book stand out. The artwork is crisp and vibrant, with lots of little funny details. And... we just learned that there's a sequel book called Count Dagmar. We haven't had a chance to look at it, but we'll try to soon. :)
Reading Levels:  Interest Level:  K-Gr. 2  /   Grade Level Equivalent:  2.1   /   Lexile Measure:  520L
Sample Pages:  Below are sample pages from inside Siebold's Vunce Upon a Time.  Fans of the adorable, popular Olive, the Other Reindeer will certainly recognize Siebold's fun, vibrant illustrations. The text is a bit longer than we usually read during read alouds, but it's such a fun story, the kids will be with you the whole time!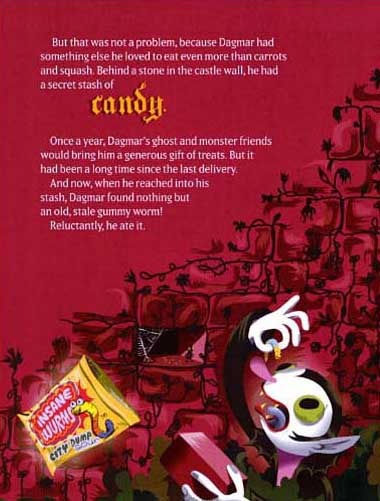 Vunce Upon a Time Activity

If you decide to read this book aloud in your classroom or to your own children, there's a fun related writing craftivity at the blog Totally in Second Grade. You can find the write up here: Vunce Upon a Time activity / craft
We haven't tried it yet but plan to this year. The kids LOVE little Dagmar, so we wanted to capitalize on that excitement with a fun related writing prompt and art activity. :) This sample one has kids naming their vampire and then explaining what makes their vampire different.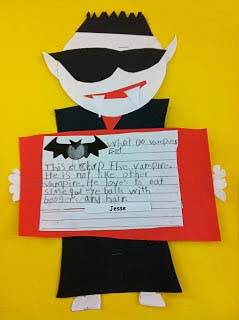 Where to now?
Now that you've seen this great book, what would you like to see now?  Please note that as an Amazon Associate, we earn from qualifying purchases.