Vietnam War Stories
for Children

The following books for children and young people present Vietnam War stories in age appropriate ways. Some of the books depict life on the battlefield, while others depict the loved ones left behind. A few cover the longer term legacy of the war--the missing family members and/or the lingering psychological trauma experienced by those who made it home.
These Vietnam War stories can be a great resource for American history lessons on the Vietnam war, and they can also be helpful when discussing America's current military wars and conflicts. Note: The interest age increases as you move down the page.

For books about other periods in American history, return to the page of American History books.
The Wall   written by Eve Bunting; illustrated by Ronald Himler

The Vietnam War Memorial is visited by a boy and his father to look for his grandfather's name. His father says he is proud that his dad's name is there, but the boy says he would rather his grandpa was there with them. This is a deeply moving story that communicates the Vietnam Memorial's meaning to the American people.
Reading Levels            
Interest: Pres-Gr. 3           DRA: 38
Grade Equiv: 3.1              Lexile: 270L Guided Reading: P

---
Patrol: An American Soldier in Vietnam  by Walter Dean Myers
A young soldier's feelings of fear and exhaustion are captured in verse in this powerful story-poem about his experiences in Vietnam. Emotionally moving collages illustrate the story.

This book was a National Council for Social Studies Notable Book for 2003 and won the the Women's International League for Peace & Freedom Award.

Reading Levels
Interest:  Gr. 3-7               DRA:  24
Grade Equiv: 3.1             Lexile: 280L
Guided Reading: M

---
Little Cricket  by Jackie Brown
When North Vietnamese soldiers destroy the village of 12-year-old Kia, they almost destroy her family too, because her father disappears and the rest of them flee to a refugee camp.
Eventually, Kia, her brother, and her grandfather immigrate to America, where she is overwhelmed with the language and culture of her new life. She feels so alone, but when her brother gets into trouble and her grandfather becomes ill, she sees that they're not so alone after all.

Reading Levels            
Interest: Gr. 4-8             DRA:  50
Grade Equiv: 6             Lexile: 1010L
Guided Reading: U

---
Cracker! The Best Dog in Vietnam  by Cynthia Kadohata
Vietnam War stories can be uplifting too, as evidenced by this touching story about the bond between an army 'canine unit' dog named Cracker and his handler Rick. Together, they spend their days searching for booby traps.
The story is told via their alternating viewpoints, and shows that Cracker looked after Rick just as much as Rick looked after Cracker. "Filled with action...likely to spark readers' interest in this little-known area of history." (School Library Journal)
Reading Levels            
Interest: Gr. 5-9             DRA:  50
Grade Equiv: 5.3          Lexile: 730L
Guided Reading: T
---
Shooting the Moon  by Frances O'Roark Dowell
Jamie's father is a colonel in the army, and she's thrilled and envious when her brother enlists and goes to Vietnam. When she starts to get rolls of film from him, instead of letters, and learns how to develop them, she gradually sees the horrors of what he has experienced, and her view of the world changes. Her self-awareness grows as she matures and sees things as they really are.
This is a great choice if you are looking for a book about life in America during the Vietnam War.

Reading Levels            
Interest: Gr. 5-9            DRA:  50
Grade Equiv: 4             Lexile:  890L
Guided Reading: T
---
Escape from Saigon:  by Andrea Warren

Subtitled: How a Vietnam War Orphan Became an American Boy
In 1975, Operation Babylift brought eight-year-old Long from Vietnam to an adoptive family in America, where he thrived and eventually became a doctor. This moving photo-essay tells Long's story, including his painful abandonment, the kindness of orphanage workers, his frightening escape under fire, his sadness at leaving Vietnam, and his efforts to become American. "Gripping." (Booklist, starred)

Reading Levels            
Interest: Gr. 5-12          DRA: 60
Grade Equiv: 6             Lexile:  930L
Guided Reading: W

---
10,000 Days of Thunder   A History of the Vietnam War

This exploration of the 10,000 day-long Vietnam War is a "truly multifaceted presentation" (School Library Journal). The background for the conflict, the main battles, the key players (soldiers, villagers, medics, journalists) and the impact back home are all covered.
Plus, Caputo weaves in moving personal Vietnam War stories and dramatic photographs that "humanize the tragedy and celebrate the heroism." (Booklist)  
Reading Levels            
Interest: Gr. 5+           DRA:  70
Grade Equiv: 7.6       Lexile:  1210L
Guided Reading: Z
---
Where Have All the Flowers Gone?   Diary of Molly MacKenzie Flaherty

Molly's brother is off fighting in Vietnam, and Mary doesn't know how she feels about it. She describes her feelings and opinions in this poignant diary, telling how the war affects her and her family, how sad it is at the VA hospital where she volunteers, and about other things that are going on (hippies, anti-war demonstrations, assassinations of Dr. King and Robert Kennedy, coffeehouses...)
This book is part of the fabulous Dear America series, a collection of historical fiction 'diaries' written especially for kids.

Reading Levels            
Interest: Gr. 5-10             DRA: 50
Grade Equiv: 5.9             Lexile:  930L
Guided Reading:V
---
Lost in the War    by Nancy Antle

Lisa's father was killed in the Vietnam War, and now her mother is depressed and having nightmares about her time as a nurse in the war.
When Lisa's history teacher assigns the students a project on Vietnam, Lisa refuses. She is tired of the war, tired of Vietnam and how it tore apart her family. In time, however, she comes to accept the past and with the help of supportive people, her family begins to heal.

School Library Journal promises that "the interesting mix of characters, energetic writing, historical references, and poignant insights bring this troubling era to life."

Reading Levels            
Interest:  Grade 5-8               
Grade Equiv:  5.2            Lexile:  680L
---
The Journal of Patrick Seamus Flaherty: US Marine Corps, Vietnam

Patrick's journal is an intense first-person record of four months at war under constant assault from the enemy, including the dreadful living conditions, the danger, the utter terror at watching a fellow soldier get blown up right in front of you...
In time, readers can see how the experiences have worn on Patrick, causing him to question if they should even be there at all. (Of the Vietnam War stories listed her, this is the most "reality of war" type of account.)
Reading Levels            
Interest: Gr. 6-10              DRA: 70 
Grade Equiv: 5.8             Lexile:  900L
Guided Reading:Z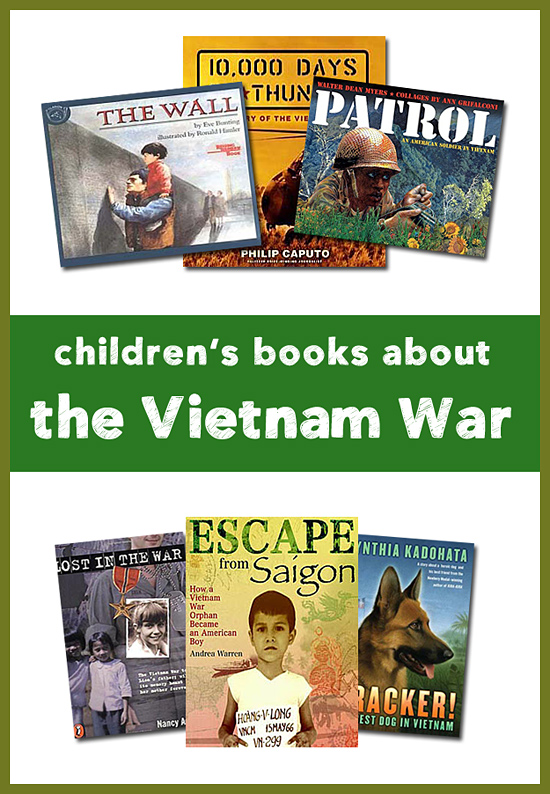 ---