Tree of Life

Tree of Life: World of the African Baobab
by Barbara Bash
A lavishly illustrated look at the stately and unique African baobab tree, which can live over 1000 years, grow 60 feet tall and 40 feet wide, and looks as if it was planted upside down!  This title depicts not only the stages of growth and other details about the tree, but also its interactions with the surrounding environment.

Bash's illustrations are "breathtaking" (Kirkus Reviews). This is great for lessons on trees as well Africa studies. Indeed, in a starred review, Booklist said this will make a beautiful introduction to the African ecosystem."
Reading Levels

Interest Level: Gr. 2-5          Grade Equiv:   4.2            Lexile Measure:  AD1040L
See Inside This Book

Below are sample spreads from inside this book.  We love Bash's beautiful, detailed illustrations, and the vibrant colors she uses!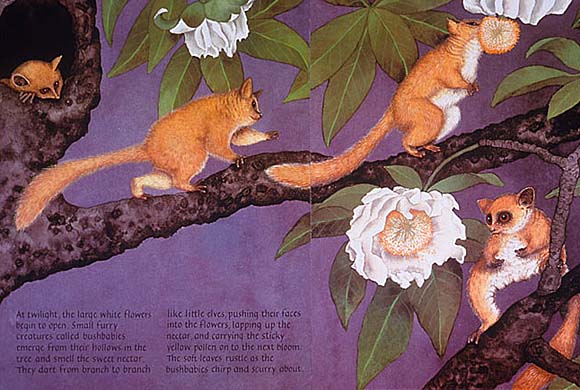 Where to now?
Now that you've seen this great book, what would you like to see now?  Please note that as an Amazon Associate, we earn from qualifying purchases.