Tops and Bottoms
by Janet Stevens

A trickster tale reminiscent of Brer Bear and Brer Rabbit. In this title, clever Hare outsmarts lazy Bear and ends up with all they grow in their garden. Steven's vibrant illustrations are kid-friendly and so full of emotion that even the lazy Bear exudes personality!
This book was a 1996 Caldecott Honor book!

Interest Level: Preschool-Grade 2          DRA Level: 24                   Lexile Measure:  580L         
Grade Level Equivalent:  3.8                 Guided Reading: M     

Below are sample spreads from i. As you can see, sometimes the book needs to be oriented in a vertical format!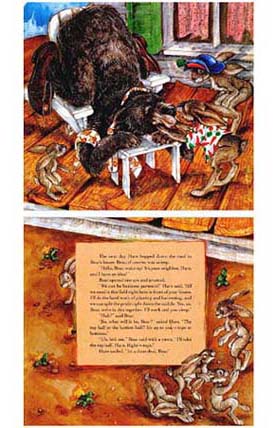 Where to now?
Now that you've seen this great book, what would you like to see now?  Please note that as an Amazon Associate, we earn from qualifying purchases.