Time Flies
by Eric Rohmann

Time Flies stunning, wordless picture book about a bird, who flies into the open gallery of a natural history museum, then around and through the dinosaurs on display.
Over the course of several stunning spreads, the dinosaurs "come to life" and the museum setting fades into a real, open air prehistoric environment. Is it a dream or did the bird really go back in time?
A Caldecott Winner & ALA Notable Children's Book!
It's not the story that makes this book so fabulous-- it's the astonishingly detailed illustrations that capture every texture, every tooth, every bone...  Additionally, the story is so open-ended that your kids will pepper you with questions afterward. Did the bird go back in time? Did the dinosaurs become real?
Rohmann leaves those questions unanswered, and that's part of this appeal of this "work of informed imagination and masterly storytelling unobtrusively underpinned by good science." (NYTimes) 

See Inside Time Flies

Below are sample pages from inside this book. Of course, our little image here just doesn't do the real thing justice. It's like watching a movie on the big screen verses on your iPhone. Like some movies, some books--like this one--must be seen in the large version to appreciate the magic. But...at least our little versions here can give you an idea of what to expect.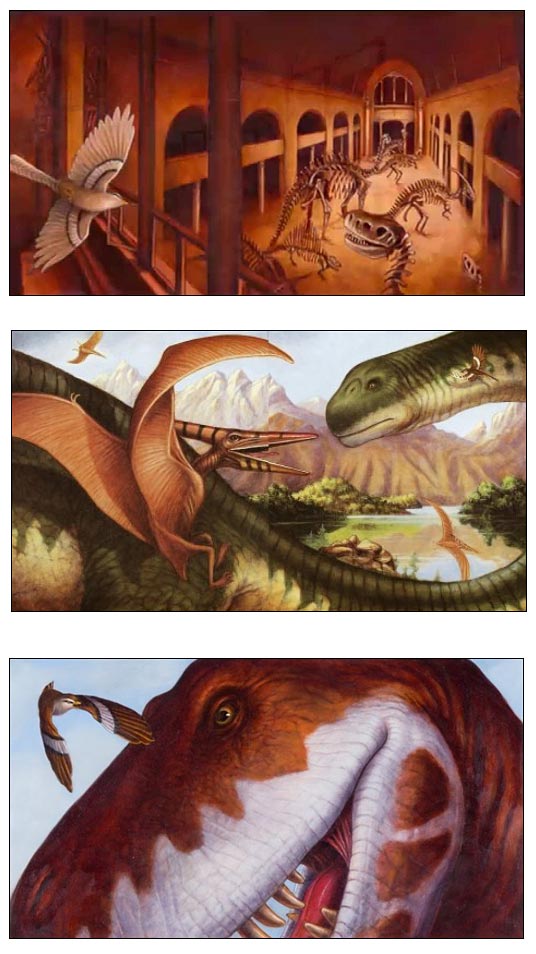 Where to now?
Now that you've seen this great book, what would you like to see now?  Please note that as an Amazon Associate, we earn from qualifying purchases.

---
This is a great book, but if it's not exactly the book you are looking for, you can see: