Tibet Through
the Red Box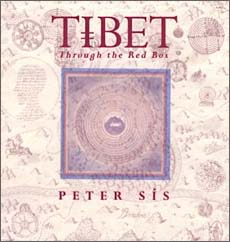 by Peter Sis
In this book, brilliant illustrator Peter Sis shares stories about his father's travels in China and Tibet in the 1950s.
Much of the scraps and keepsakes were kept in a red box, hence the name of this book. To view a Sis book is to experience a hundred 'little discoveries' in one sitting. 

As usual, Sis's detailed illustrations are spectacular, with a sophistication that will appeal most to older kids and adults.It's the small details in his illustrations that make his books magic. However, what makes Sis's illustrations so wonderful is also the main reason why this book would NOT work as a read aloud. Truly, it is a book to be seen up close or not at all. If you are teaching about the geography or history of Asia, this is a fun addition.


Awards Won
  - Caldecott Honor 1999
  - School Library Journal Best Children's Book 1999
  - New York Times Best Illustrated Book 1999
  - American Bookseller Pick of the Lists


Reading Levels
Interest Level:  Grade 5+         Lexile Measure: 820L        Grade Level Equiv: 4.2


See inside
Below are three sample illustrations from inside Tibet Through the Red Box. The magic of Peter Sis's books is in the many small details on each page. That doesn't  reproduce well in the smaller, computer screen images we are showing here, but in actual size, each page in this book pulls you in to study the small illustrations and read the short snippets of text. This book is an absorbing experience for an individual reader and is probably better suited to that type of reading than to a read aloud.


Where to now?
Now that you've seen this great book, what would you like to see now?  Please note that as an Amazon Associate, we earn from qualifying purchases.

---

You may also want to check out other amazing books by Peter Sis. To learn more, click on the images below or the link above. :)