There Was an Old Lady Who Swallowed a Fly
by Simms Taback
There Was an Old Lady Who Swallowed a Fly is an energy-filled interpretation of this classic story, with bright colors, jaunty artwork, and a die-cut holes so that the reader can see what is inside the old lady's belly. The poem is handwritten on bright pieces of paper randomly placed on her dress. "Deeply gratifying." (Kirkus Reviews)
This book won several children's book awards, including the 1998 Caldecott Honor! The main reason we love this book is because the kids love it!  How could they not with they fun, silly, rhythmic storyline and the crazy, bright illustrations that are like none they have seen before. This is exactly how children would illustrate their own picture book, if only they had Taback's talent!
Reading Levels:   Interest Level:  Preschool - Grade 2    /    DRA Level: 20    /    Lexile Measure:  250L    /    Grade Level Equivalent: 1.9    /    Guided Reading:  L
Sample Pages:  Below are sample pages from inside this book. Taback fans will recognize the colorful collage illustrations.  So great in life size. :)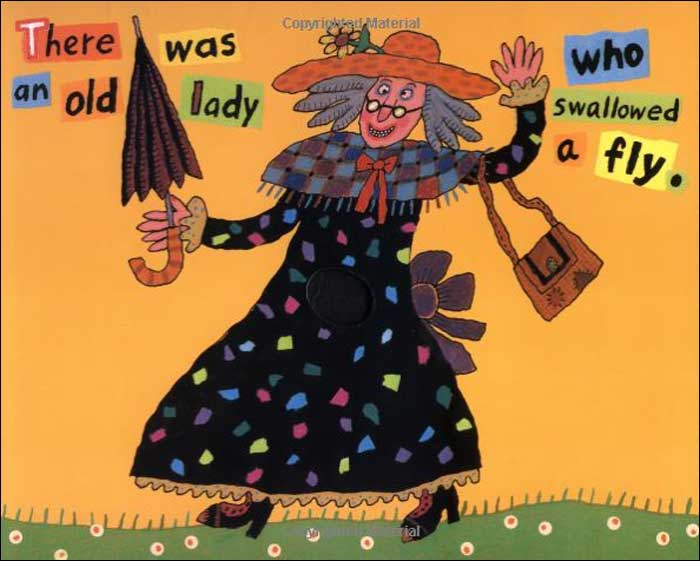 Where to now?
Now that you've seen this great book, what would you like to see now?  Please note that as an Amazon Associate, we earn from qualifying purchases.
This is a great book, but if it's not exactly the book you are looking for, you can see: