The Wolves are Back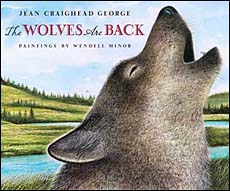 by Jean Craighead George
illustrated by Wendell Minor
An exceptional picture book that illustrates the ecological damage that can result when an animal is removed from an environment and thus from the natural food chain of that environment.


This title tells the story of the intentional decimation of the wolf population from the American wilderness by the mid-1920s, including the unforseen consequences on other species and the environment and how the delicate balance was restored once wolves were reintroduced into Yellowstone.
George's rhythmic prose moves the story along nicely, and Wendell Minor's stunning illustrations capture the beauty of Yellowstone and pull the reader into his panoramic landscapes. If you are looking for the BEST book on what happens when a food chain or food web is disrupted, we recommend this title!

A National Council for Social Studies Notable Social Studies Book 2009!
Reading Levels for The Wolves are Back

Interest Level: Grade 1-4                Lexile Measure: AD630L
See Inside This Book

Below are sample spreads from inside this book.  We love Wendell Minor's beautifully detailed illustrations!  The first sample spread below reads: "The deer, elk and antelope -- the gentle--animals--looked beautiful in photographs. They wandered in tranquil herds. Peace reigned in the American wilderness. The wolves were gone."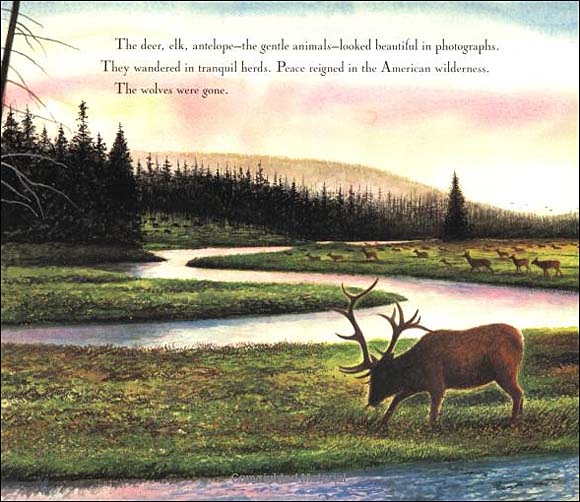 The reader soon learns that this peace would have dramatic unintended consequences on the landscape.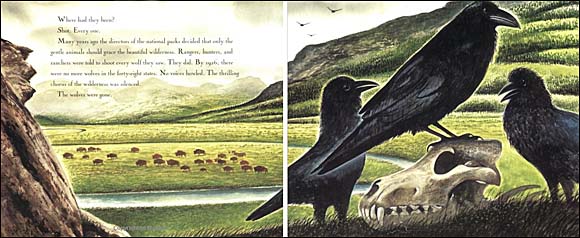 Please note that if you purchase an item from Amazon, they give us a small referral fee. And that helps us cover the costs of this website.


---