The Tree of Life:
Charles Darwin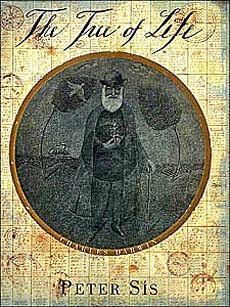 by Peter Sis
A highly visual biography of Darwin and his ideas, created by Caldecott honoree Peter Sis. Although there are blocks of text on each page, much of the information is conveyed in Sis's stunning, intricate illustrations.
Note: this is not a read-aloud, as the pages require up-close viewing. Put this one in your home or class library, as your kids really must see inside this "fabulous, visually exciting introduction to the man, his ideas, and...the natural world." (School Library Journal)
Reading Levels
Interest Level: Gr. 4+         Lexile Measure: IG890L


Awards Won
  - American Library Association Notable Children's Book 2004
  - American Library Association Best Book for Young Adults 2004
  - Horn Book Magazine Fanfare Award 2003
  - New York Times Best Illustrated Children's Book List 2003
  - National Science Teachers Association Outstanding Book 2004


See inside
Below is a sample spreads from inside this book. Fans of Peter Sis's amazing, detailed illustrations will love this book.


Where to now?
Now that you've seen this great book, what would you like to see now?  Please note that as an Amazon Associate, we earn from qualifying purchases.

---


You may also want to check out other books by Peter Sis, such as those shown below. To learn more, click on the book covers below or the link above. :)