The Three Pigs
by David Wiesner

David Wiesner's The Three Pigs is a spectacularly creative version of the three little pigs, where the wolf manages to blow the pigs right out of the story, and one by one, they become three dimensional and set off on an adventure, traveling into different fairy tale stories, zooming around on a paper airplane, etc.
This version is a MUST see.  Pure creative genius!  :)

Nothing teaches the power of creativity as powerfully as taking a familiar topic (like The Three Little Pigs) and putting a whole new slant on it...which is exactly what Wiesner has done in this fractured fairy tale.
Reading this book is a blast, and has the added benefit of showing children what can happen when you think outside the box, since Wiesner took this familiar tale WAY outside the box and the result is quite spectacular.


Interest Level:    all ages will LOVE it!

Awards Won by The Three Pigs

   - Caldecott Medal 2002
   - American Library Association Notable Children's Book 2002
   - Publisher's Weekly Best Books of the Year 2001
   - School Library Journal Best Books of the Year 2001
   - New York Public Library 100 Titles for Reading and Sharing

See Inside The Three Pigs

Below are two sample spreads from inside this book. The first spread shows the big bad wolf huffing and puffing and blowing the straw house down....and blowing the pig right out of the story!  The second spread shows the same happening to the house of sticks, resulting in one confused wolf and two pigs ready to set off on an adventure.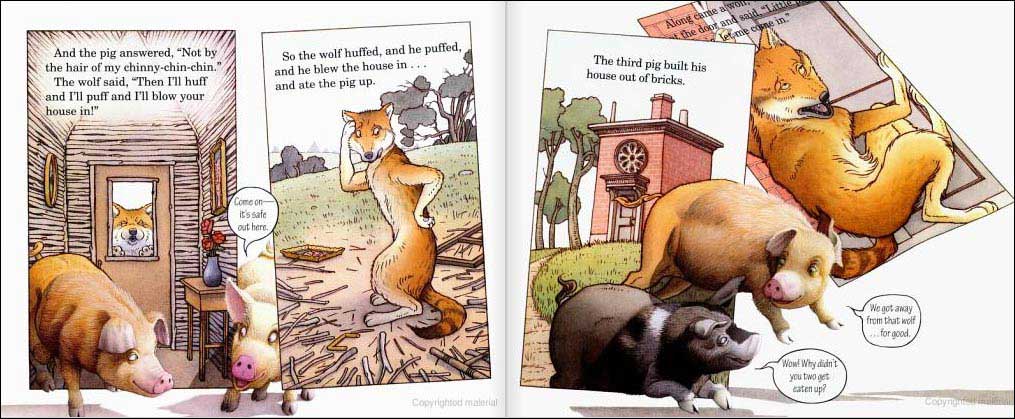 ---

This is a great book, but if it's not exactly the book you are looking for, you can see:
Also, David Wiesner is AMAZING!  We love virtually every book he has ever written. REALLY!  You must check out David Wiesner's other books!