The Storm in the Barn

by Matt Phelan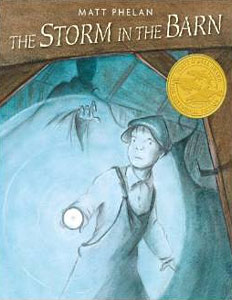 This is a graphic novel, a historical fiction novel, and a thriller--all in one book! Set during the dust bowl, it tells the story of 11-year-old Jack, who is already dealing with bullies at school and devastating dust storms..
A lover of tall tales, Jack soon becomes part of a tall tale himself, forced to face a shadowy figure he keeps seeing in the barn. He initially wonders if he has 'dust dementia', but soon understands that the figure in the barn is the dreaded 'Storm King' who has been holding back the rains. He wants to just ignore what he's seen, but realizes that he must be brave in order to save his desperate town.

We think this is one of the best graphic novels for kids PLUS historical fiction book for kids.  It's actually nearly wordless, but much is communicated in Phelan's illustrations, particularly historical details about the struggle of daily life during the dust bowl. Kids can't help but walk away with a greater understanding of how dust bowl inhabitants felt in the face of what had become a 'ruthless nature' (ie: Jack's mother reminiscing about when the land was fertile; Jack's friend sharing tall tales of a man who can control nature...)

In a starred review, School Library Journal said, "Children can read this as a work of historical fiction, a piece of folklore, a scary story, a graphic novel, or all four...A complex but accessible and fascinating book. " And Publisher's Weekly said the standout in this graphic novel is "the Dust Bowl setting... Phelan's art emphasizes the swirling, billowing clouds of fine grit that obscure even nearby objects."


 Awards Won
  -Graphic Novel Reporter Top Ten Core Books for Teens
  -Booklist Editor's Top 10 Graphic Novels for Youth
  -Chicago Public Library Best of the Best Books
  -American Library Association Notable Children's Books
  -Scott O'Dell Award for Historical Fiction
  -Booklist Editors' Choice for Best Children's Books
  -Kirkus Reviews Best Children's Books
  -New York Public Library: 100 Books for Reading and Sharing
  -American Library Association Great Graphic Novels for Teens


Reading Levels

Interest Level:  Gr. 5 & Up               Lexile Measure:  GN430L


See Inside

Below are some sample pages from inside this book. As you can see, it's nearly wordless but communicates a great deal about what it would have been like to live during the dust bowl! 



We firmly believe in the power that graphic novels for kids have in sparking an interest in a subject.  And...we feel the same way about a good historical fiction book for kids.  This is bound to be mighty powerful in the hands of kids!