The Snowflake:
A Water Cycle Story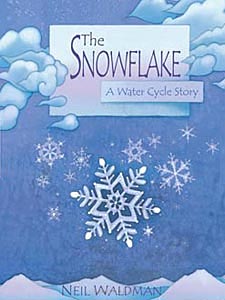 The Snowflake: A Water Cycle Story
by Neil Waldman
This "beautiful take on the water cycle" (School Library Journal) traces a single water droplet over a year as it changes from a snowflake to various other forms, until at year's end, it returns to a snowflake once more.
Each double-page spread is devoted to one month of the year and features beautiful, cool toned paintings and few lyrical sentences about the form the little droplet has taken in that month.
Once you have explained the water cycle to your students, this book could be a great way to reinforce the steps by following one single drop of water through its many forms and through an entire year. As your students watch the single drop change into wide range of forms (snowflake, groundwater, springwater, part of a farm's irrigation system, fog, part of a cloud, rain, home plumbing, ocean water...), they can clearly "see" firsthand that water doesn't "go away"-- it changes form and cycles through once again. The drop ends where it began--as a snowflake.

School Library Journal called this book "a must for libraries and science classrooms". We agree...it's a great title!

Interest Level:    1st grade - 5th grade


See inside
Below are sample spreads from inside The Snowflake: A Water Cycle Story. Each spread covers one month of the year, sharing what form the rain drop has taken for that month. The first spread below is of February, when the droplet takes the form of a snowflake. And the second sample spread below depicts the water cycle in May. In case you can't read the text in our small reproduction below, here's what the text reads: "A shiny metal pump sucked the droplet through a maze of zig-zagging pipes into the irrigation system of a nearby farm. It spun through a long rubber hose, swished into a spinning sprinkler, and squirted up into the air. The
droplet flew in a great arc, landing at last on the leaf of a cabbage plant."


Where to now?
Now that you've seen this great book, what would you like to see now?  Please note that as an Amazon Associate, we earn from qualifying purchases.