The Red Book

by Barbara Lehman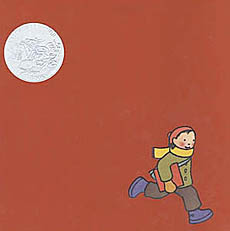 A little girl finds a red book on her way to school and picks it up. As she flips through the pages, she see illustrations of a boy on a beach who finds a red book in the sand, opening it, and flipping through the pages. Before long, the boy and girl realize they/re looking at each other!


This book "a mind trip for tots" (Booklist) and a clever celebration of the power that books have to transport us to new lands and adventures, as that is exactly what happens to the two children in the story.
Be prepared for many questions after you 'read' this book aloud, as kids will seek to clarify their understanding and unravel this intriguing little story. Lehman's watercolor, gouache, and ink illustrations are simple and understated, but they work well with the storyline. This is a book to be read slowly and 'experienced.'


This book received the Caldecott Honor in 2005!


Peek Inside
Below are illustrations from inside this book. The first three illustrations are the first three in the book. These pages show the little girl walking to school and then stopping when she sees the book in the snow beside the sidewalk. Although our little samples here make the pages look like a comic book format, each page features one large, crisp illustration (which we have shrunk down here to be able to show you several.)  




---

You may also want to check out other books by Barbara Lehman. To learn more, click on the book covers below or the author's name above.