The Man Who Walked Between the Towers

by Mordicai Gerstein
In 1974, a French man named Philippe Petit spent an entire hour walking across a thin cable wire strung between the World Trade Center buildings at over a quarter of a mile above the ground. With impeccable pacing, lyrical words, and vertiginous perspectives, Gerstein captures the drama of the event and the larger-than-life persona of Petit.
This is such a unique and wonderful story, made all the more amazing because it is true!  Philippe Petit comes to life through Gerstein's skillful words and illustrations, and children can't help but walk away with the message that anything is possible!

All the illustrations are charming, but those of Philippe on the wire are masterful! Readers see the event as a pedestrian looking up plus from above Philippe looking down. Done in fold out pages, these illustrations are "fascinating and harrowing" (Publisher's Weekly).

The fact that the story centers around an illegal activity is a bit concerning. Usually you don't want your picture books to teach such messages. But...for most children, the drama of the event and Philippe's "incredible determination, profound skill, and sheer joy" (School Library Journal) will dominate the experience, and most children will not think about the illegality. :)
This book has won a number of children's book awards, including the 2004 Caldecott Medal, the Boston Globe/Horn Book Award, and the Carnegie Medal Children's Book Winner.


Reading Levels

Interest: Kindergarten - Grade 6               DRA Level:  40               Lexile Measure: 480L
Grade Level Equivalent:  2.5                    Guided Reading: Q


See Inside

To show you the illustration style and give you an idea of the amount of text on the pages, we've included at right some small versions of the first two pages from inside The Man Who Walked Between the Towers. In these illustrations, children are introduced to the World Trade Center (remember: your students/children were likely not even born when these towers were still standing). The second page introduces Felipe, a street performer who juggled, rode a unicycle, and walked a tightrope.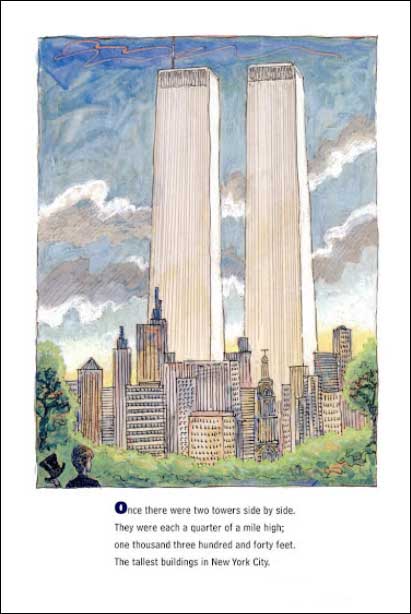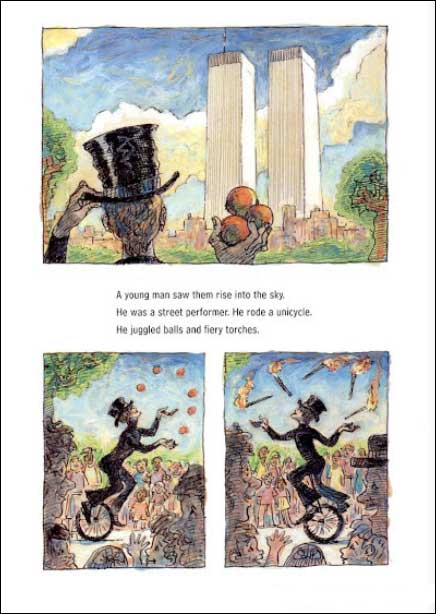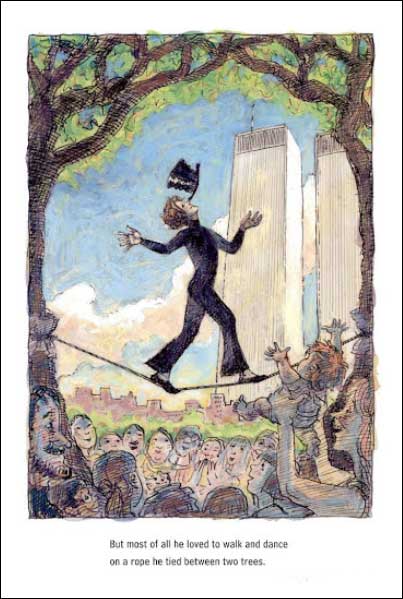 Where to now?
Now that you've seen this great book, what would you like to see now?  Please note that as an Amazon Associate, we earn from qualifying purchases.

---
This is a great book, but if it's not exactly the book you are looking for, you can see:
check out other books by Mordecai Gerstein