The Man Who Named the Clouds

by Julie Hanna and Joan Holub
illustrated by Paige Billin-Frye
Luke Howard isn't exactly a household name, but the cloud classification system he came up with is quite well known. Howard lived in 18th century England, and was fascinated by clouds, even as a child.
This title captures his wonder and chronicles his journaling and classification efforts. Readers learn about the different types of clouds, and might even be inspired to keep a cloud journal too. (Could be a fun class activity!) 
The watercolor and ink cartoon illustrations are cute and add an age-appropriate lightness to the subject. Booklist ended its review of this title by calling it "an attractive combination of biographical narrative and weather science." We agree.
Reading Levels for this book

Interest Level:  Gr. 3-5                DRA Level:  40                    Lexile Measure: 910L
Grade Level Equiv: 5.9              Guided Reading:  R



See Inside this book

Below are sample spreads from inside this book.  What adorable illustrations!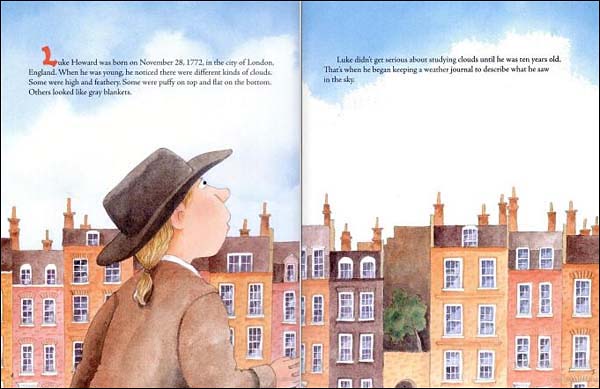 Where to now?
Now that you've seen this great book, what would you like to see now?  Please note that as an Amazon Associate, we earn from qualifying purchases.