The Magic School Bus
Gets Eaten


by Patricia Relf
illustrated by Joanna Cole
The Magic School Bus travels into the ocean for a lesson on food chains and the interdependence of life. In the story, the class is excited for a beach day, but two students forgot their required report on two beach-related objects that go together. Will they be able to go with the class?
This title covers all the basics of food chains and food webs with the usual energetic pace, corny jokes, and short student reports. We especially like how Relf provides the facts, but lets the reader put the pieces together. Really gets 'um thinking!  As usual, there's a lot going on in each spread and the text is often quite long, but the overall presentation is engaging and succeeds in keeping kids attention. We admit that we're a bit tired of this series, but kids love it!
Reading Levels for Magic School Bus Gets Eaten

Interest Level:   K-Gr. 3                DRA Level:  38                Lexile Measure: 500L
Grade Level Equiv:  2.4              Guided Reading:  P



See Inside This Book

Below are sample spreads from inside this book. In the first spread, Ms. Frizzle and the class are about to head off to Beach Day and the students have brought in objects for their reports on two beach-related things that go together. One team, for example, brought grass and a yellow balloon (for the sun), since the sun makes the grass grow. All the student teams are prepared except for Keesha's (the worried child in the front). She forgot!  Maybe she has something with her that she can use after all?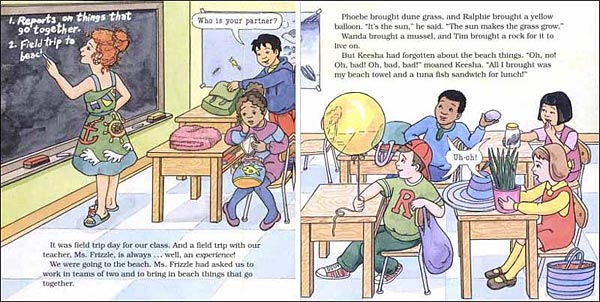 And below that spread are a few other sample pages, just to give you an idea of the illustration style (although if you are like us, you could probably spot a Magic School Bus book across the room!)



Please note that if you purchase an item from Amazon, they give us a small referral fee. And that helps us cover the costs of this website.


---


You may also want to check out other books in the Magic School Bus series*, such as those shown below. To learn more, click on the images below or here.  :) 



---