The Lion and the Mouse
by Jerry Pinkney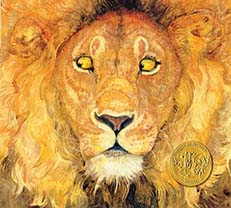 The Lion and the Mouse by Jerry Pinkney is a beautiful retelling of the well-known Aesop's fable of the lion and the mouse. However, in this book Pinkney keeps the text to a minimum and lets his STUNNING illustrations tell the story. Through the illustrations, this book retains to the basic storyline of a lion who graciously allows a captured mouse to escape, only to then be rescued by that same mouse when he gets caught in a trapper's net.
The story may be familiar, but this book definitely belongs at the top of the year's Caldecott Award winners list. Pinkney's illustrations are lush, detailed, and full of interesting perspectives that are used to  great effect, like the close up shots of the lion's face. STUNNING!

Interest Level:    Preschool - 2nd Grade
Awards Won: 
  * Caldecott Medal for 2010
  * Horn Book Awards Honor Book 2010
  * New York Times Best Illustrated Children's Book 2010 
  * School Library Journal Best Children's Books of 2009
Reviews
School Library Journal rightly promises that "the lack of words... allows for a slower, subtle, and ultimately more satisfying read."  And, of course, the moral of this Aesop's fable--that no good deed goes unrewarded--is a timeless message that all kids need to hear!

See Inside The Lion and the Mouse

We LOVE Jerry Pinkney's illustrations. They are so stunning in actual size!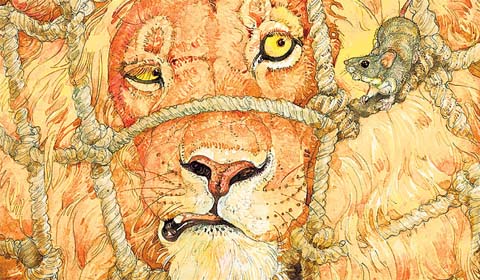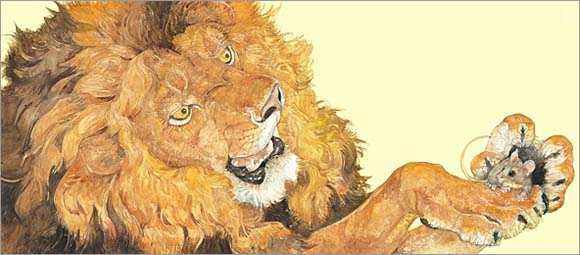 Related Activities
This book is a natural for a compare/contrast activity. Read this book aloud to your kids, and then read Jerry Pinkney's retelling in Aesop's Fables. Of course, there are other retellings that can be used as well.  Or...the website Learning to Give has a nice lesson on reciprocity and the idea of kind deeds being rewarded using this book. For a full write up of the lesson plan, please visit this page on the Learning to Give website.


BIG SAVINGS! Check out our discounted

Caldecott Winning Books for just $2.75

Want to save 50% or more off retail prices? Check our list of Caldecott winners that are used but still in great shape!  Great deals!