The Librarian Who
Measured the Earth

by Kathryn Lasky
illustrated by Kevin Hawkes

The Librarian Who Measured the Earth is a beautifully illustrated biography of Eratosthenes, a Greek man who first estimated the circumference of the Earth over 2000 years ago. This is sort of two books in one. The first half paints a lovely picture of life in the ancient world and of Eratosthenes early years and how he rose to prominence. Then, the second half of the book shifts to focus on how he calculated the circumference of the earth so long ago.

This is a delightful biography to add into the mix when teaching geometry. Hawkes' acrylics are charming and full of little details about the ancient world. We do have one concern: For older kids, this title provides an engaging way to learn about advances in early geometry, but for young kids (ie: lower grades), please know that it does get quite technical when describing the process for measuring the earth-- likely far too advanced. However, the early part of the book is age-appropriate for learning about ancient Greece.


Awards Won By This Book

    * Notable Children's Book 1995 -- American Library Association
    * Notable Book 1995 -- Library of Congress
    * Honor Book 1995 -- Parent's Choice
Reading Levels For This Book

Interest Level: Gr. 2-6                DRA Level:  40                 Lexile Measure:  840L
Grade Level Equiv:  5.7           Guided Reading:  S
See Inside: The Librarian Who Measured the Earth

Below are sample spreads from inside The Librarian Who Measured the Earth. Although our sample pages here are small, hopefully they provide a glimpse into how beautifully done the illustrations are. Many of the subsequent pages are full of historical details and settings in Ancient Greece and Egypt.  And the last half of the book provides clear illustrations of the math concepts covered.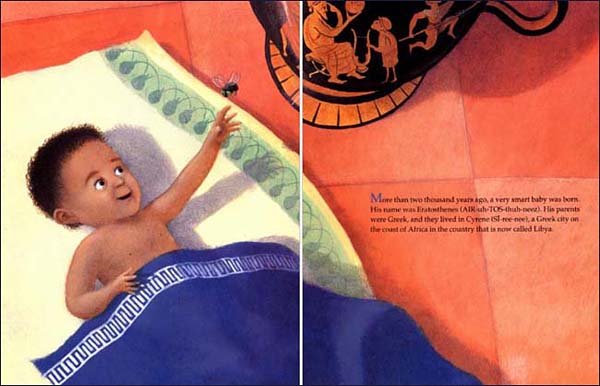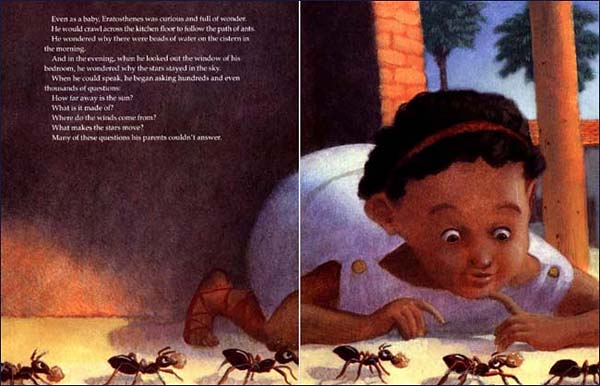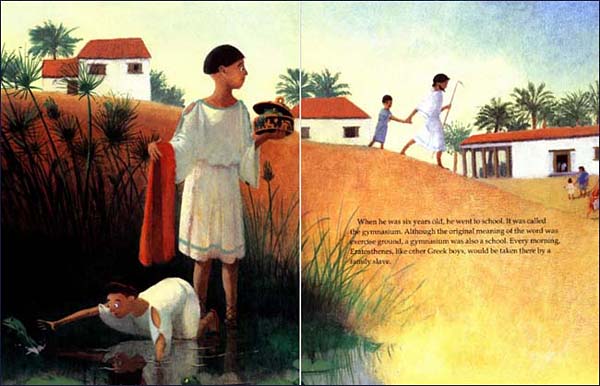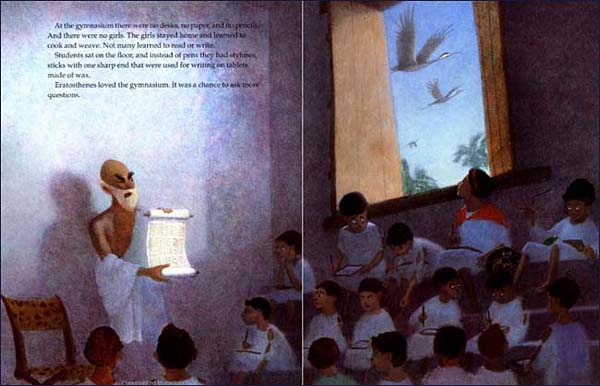 Where to now?
Now that you've seen this great book, what would you like to see now?  Please note that as an Amazon Associate, we earn from qualifying purchases.

---

There are lots more Kevin Hawkes books. We love his illustrations! They are beautiful executed, but always with a cute, kid-friendly touch. To see more books illustrated by Kevin Hawkes, click on the images below or the link above. (Note that if you purchase an item from Amazon, they will give me a small referral fee.)




Or see other books on our page of best books for teaching geometry: