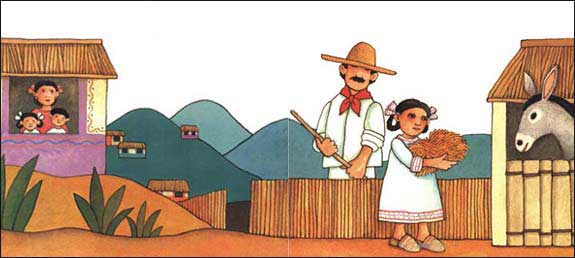 The Legend of the Poinsettia
by Tomie DePaola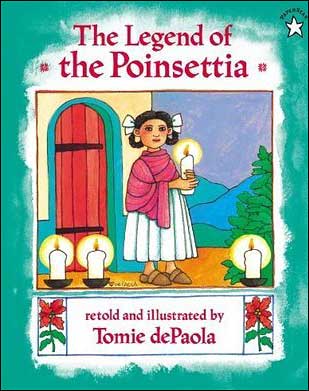 The Legend of the Poinsettia is part of a series of legend adaptations by the incomparable author/illustrator Tomie dePaola. Set in a small village in Mexico, this title retells a traditional folktale from Mexico about how the poinsettia came to be associated with Christmas.

Story summary: When Lucida's mother is asked to make a new blanket for the Baby Jesus in the Christmas procession, the family is honored. Lucida and her mother set about buying the yarn, dying it, and weaving the blanket, but before they are able to finish, Lucida's mother falls ill. Lucida tries to weave it herself, but the yarn gets so tangled that she's unable to finish it.

Sad that her family will have no gift for Baby Jesus, Lucida hides and watches the procession from a distance. Suddenly, an old woman appears and informs her not only that her mother will recover, but that it's okay that she doesn't have a special gift. "Any gift is beautiful because it is given." Lucida then picks a tangle of weeds and heads to the church. Others in the church whisper as she presents the weeds, but the the crowd gasps as the tangle of weeds turns into beautiful red flowers in the shape of stars. And when the crowd files outside, all the weeds in the countryside have changed to beautiful poinsettias.

Reading Levels
Interest Level:      Kindergarten-Grade 2
Reading Level:     age 4-8
D.R.A. Level:       Level 38
Lexile Measure:   Level AD840L
See inside The Legend of the Poinsettia

Below are sample spreads from inside The Legend of the Poinsettia.  We love Tomie dePaola's trademark illustrations.  If you like this book, be sure to check out his other 'legend' books.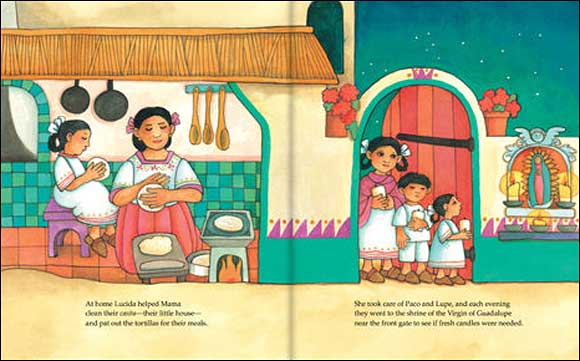 Related Activity
The obvious Christmas-themed activity to accompany this book would be to do an art project involving making poinsettias. There are MANY different projects on the internet. Here are two of our favorites:  Tissue Paper Poinsettias  (left) and  Poinsettia Clothespin Ornament  (right).

Looking for great kids Christmas books?  Check out our

SALE Christmas Books for kids

Just $2.75 each!  Check out our list of great kids books about Native American culture. We often have this fantastic book in our inventory.  If we don't currently have this exact book today, there are likely lots more good books to choose from about this particular topic, and they are all at 50% or more off retail prices!
Where to now?
Now that you've seen this great book, what would you like to see now?  Please note that as an Amazon Associate, we earn from qualifying purchases.