The House in the Night
written by Susan Marie Swanson
illustrated by Beth Krommes
The House in the Night:  A little girl is given a key to a house, and while exploring the rooms, she finds a book about a bird --a bird that soon comes to life and takes her on a journey through the starry night.
It's the illustrations that make this title such a standout! The storyline isn't particularly special. It does have the nice, comforting rhythm often found in cumulative tales, but it's really the illustrations that steal the show. Flecked with gold and alive with texture, the stunning scratchboard illustrations are truly captivating.

Booklist called it "a beautiful piece of bookmaking." Agree!  If you use this book as a read aloud, but be sure to also provide a copy for independent reading, as kids will have to see this book up close to be truly captivated by its magic!
Interest Level: Preschool - Grade 1              Lexile Measure: 60L


This book won a number of children's books, including:
     * Caldecott Medal -- 2009
     * Publishers Weekly Best Children's Books
     * Kirkus Reviews Best Books of 2008
     * New York Public Library Best Books for Sharing List
See Inside this book

Below are some sample pages from inside this book. A computer screen is a poor substitute for a glossy, luminous page in a picture book, but at least it can give you an idea. :)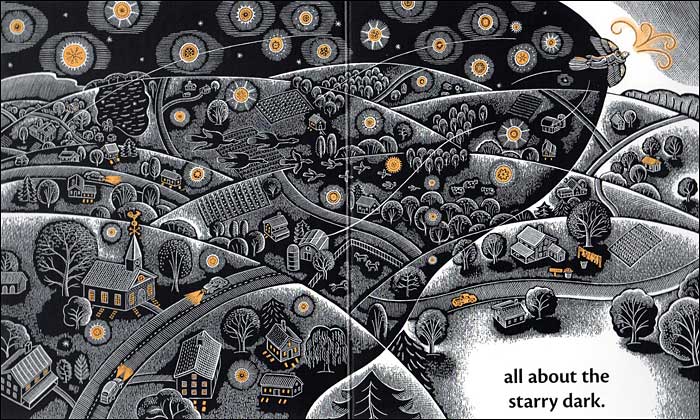 Where to now?
Now that you've seen this great book, what would you like to see now?  Please note that as an Amazon Associate, we earn from qualifying purchases.

---
This is a great book, but if it's not exactly the book you are looking for, you can see: