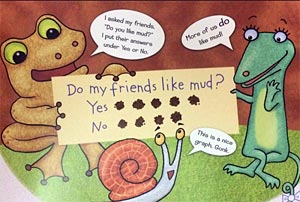 The Great Graph Contest

by Loreen Leedy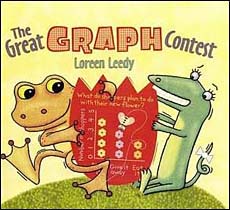 In The Great Graph Contest, best friends Gonk the Toad and Beezy the Lizard compete to see who can make the best graph and in the process, they explore (1) data collection methods like surveys and tallies, as well as (2) graphing methods like line graphs, bar graphs, and more.

This book is an AAAS Science Books & Films Honor Book!

Leedy's trademark illustrations definitely keep kids' attention and are full of clearly presented graphs. Unlike most Leedy books which are too packed for read alouds, this title would work well as a read aloud or independent reading. Overall, very well done! 
In a starred review, School Library Journal said, "designed to inform and entertain... An exciting and energetic math resource." And Booklist said "natural for curriculum use, this is an entertaining, easy-to-follow introduction..."
Reading Levels
Interest Level: Grade 1-3          DRA Level: 28                  Lexile: AD310L          
Grade Level Equiv: 1.6             Guided Reading: L
 

See Inside
Below are two sample spreads from inside The Great Graph Contest.  Readers familiar with Loreen Leedy's titles will recognize the packed spreads (although this title has decidedly less busy spreads than her usual.)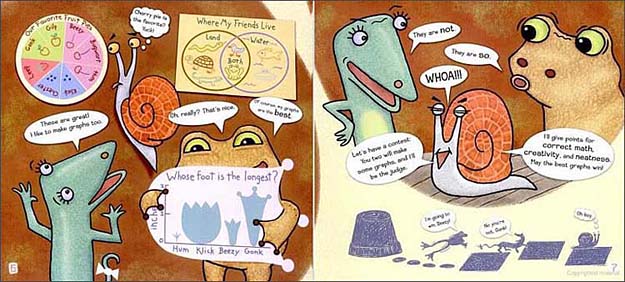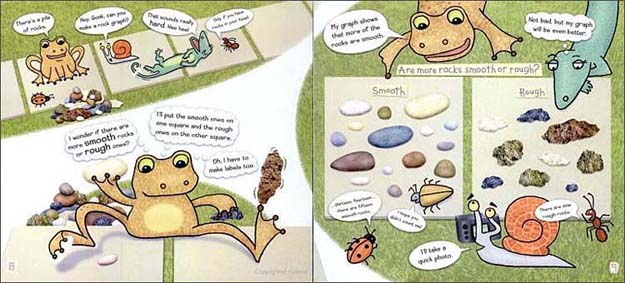 To learn more about this book, click the link below.  Please note that if you purchase an item from Amazon, they give us a small referral fee. (This helps pay for site hosting costs, thus allowing us to keep everything free for site visitors!)


The Great Graph Contest Lesson Ideas

On her website (here), author Loreen Leedy suggest the following graphing activities to accompany her book:

Survey Friends: Ask your friends a question such as 'How many pets do you have?' or 'What is your favorite sport?' Survey each friend and write down their answer. Decide which kind of graph is the best way to display the information, then make a poster with construction paper and markers."
Goofy Graphs: Think of a fun graphing question such as: "If you could be any animal, what would you be?" Take a survey of your class, group the answers into appropriate categories such as Reptile, Mammal, Bird, and Imaginary, then make a graph to display the results. What's the most popular answer?
Where in the World is My Family From?: Find out what countries or states your classmates and family members are from. Make a graph to display the results.

Create a Chart Museum
The Utah Education Network website has the following lesson idea on their site:

"Read the book once through and then re-read it and after each kind of chart in the book, have a discussion about how the characters made their graphs and why they used that particular chart/ graph each time. Have a discussion about the charts and have students write in their math journals about the various graphs. Make a home assignment for students to make a creative graph with something of their choosing, then bring it to school and hold a Chart Museum where students will walk around looking at the various charts. Students could also write numerical facts about the graphs in their math journals." Source: http://www.uen.org/Lessonplan/preview.cgi?LPid=28204

---
This is just one of a number of math books by Loreen Leedy.  They are quite helpful to use when teaching math (although all share the 'problem' of being hard to use as a read aloud because of all the small details on the page.)  If you teach math, you may also want to check out her other books by clicking on the link above or the sampling of book covers below.