The Great American Dust Bowl
by Don Brown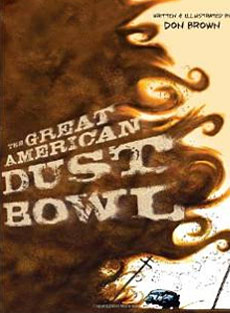 This book is really GOOD!  When I first got it, I meant to just flip through it at first, then read it later. Nope. Sat on my back porch and before I knew it, I had read it cover to cover right then and there.  Just another Don Brown masterpiece. :)

In a graphic novel format, Brown tells the complete story of the Dust Bowl. He starts by explaining the ecology of the Great Plains and the history of early land use (buffalo, Native Americans), then moves on to explain how ranching and farming exhausted the soil, plus other significant events (ie World War I food shortages) built upon the pending disaster. 
Once the foundation is set, Brown compelling shows what life was like during the Dust Bowl. Small details of daily life are brought to life in his comic-style panels.  We particularly like how, in spread after spread, Brown is able to show the many, many, many challenges (even plagues!) that Dust Bowl residents faced...but without creating that 'unrelenting list' feeling that some books engender. Readers will stay engaged, and leave this book in awe at what residents had to endure!


This book got GLOWING reviews from the major book review agencies. Many are listed on Amazon.  Many are "starred reviews" and words like "magnificent" and "compelling" and "enticing" pepper the reviews. This book is a classroom must!


Reading Levels
Interest Level:  Gr. 5 & Up             Lexile Measure:  860L


See inside
Below are sample spreads from inside this book (it's actually the first and third spread). To see larger versions and read the text, simply click on the image.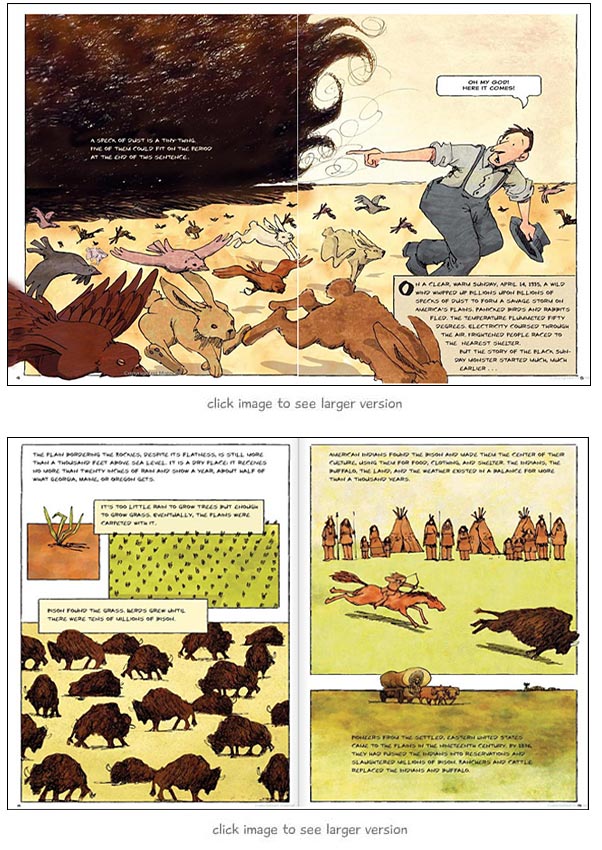 Please note that if you purchase an item from Amazon, they give us a small referral fee.



---