The Graveyard Book

by Neil Gaiman
The Graveyard Book
by Neil Gaiman
Nobody Owens, usually called 'Bod', is a fairly normal boy. Well, he'd be more normal if he didn't live in a graveyard, being raised by ghosts, with a guardian who belongs to neither the world of the living nor the dead.
But living in a graveyard isn't all that bad. There are adventures to be had.. And anyway, Bod can't leave the graveyard because if he does, the man who killed Bod's family might go after Bod too!

The Washington Post said: "Like a bite of dark Halloween chocolate, this novel proves rich, bittersweet and very satisfying." And in a starred review, Kirkus Reviews says: "This needs to be read by anyone who is or has ever been a child."
Awards Won by this book

   - Newbery Medal 2009
   - Carnegie Medal 2010
   - Hugo Award for Best Novel 2009
   - Locus Award for Best Young-Adult Book 2009
   - Cybils Awards for Fantasy & Science Fiction--Middle Grades 2008
   - SFX Award for Best Novel 2010
   - American Library Association Best Fiction for Young Adults
   - American Library Association Booklist Editors' Choice
   - New York Public Library Stuff for the Teen Age
   - American Library Association Notable Children's Book
   - New York Public Library's "One Hundred Titles for Reading and Sharing"
   - Kirkus Reviews Best Children's Book
   - Boston Globe-Horn Book Award Honor Book

Reading Levels for The Graveyard Book

Interest Level: Gr. 5-8               DRA Level:  60                  Lexile Measure: 820L
Grade Equivalent:  5.4             Guided Reading: X

Book Covers Available

There are several different covers available for this book, although the first one (blue) seems to definitely be the most widely available (ie: it's both the hardcover and paperback on Amazon.com).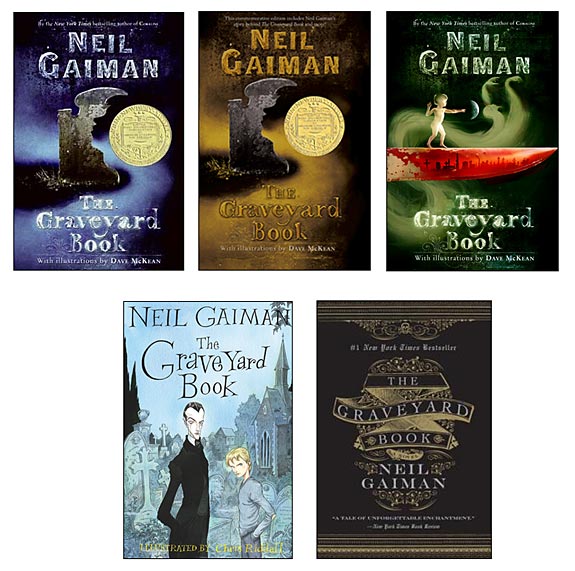 The Graveyard Book Lesson / Activity Ideas

Once students read this book, they definitely don't want the fun to end! I point them in the direction of Neil Gaiman's website, where they'll find games related to the book. They're simple and do not test comprehension, but it keeps the excitement about the book going, and anything that keeps a kid excited about reading is worthwhile. There's also an interesting question and answer video with the author.

Teachers: For tips on using this book in the classroom, find The Graveyard Book Teacher's Guide at the link (downloadable PDF about midway down the page.)


---

This book was an honoree for the prestigious Newbery Award for best children's literature. Click to see the full list of Newbery Award Winners.