The Grandma Book and
The Grandpa Book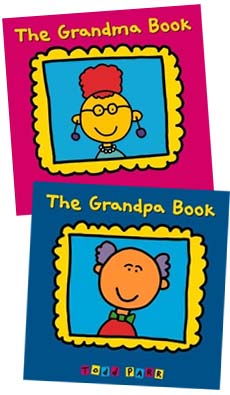 written and illustrated by Todd Parr
These companion books about grandparents explore all the different kinds of grandmas and grandpas there are. In The Grandma Book, some grandmas have lots of cats. Some have lots of purses. Some dance, some hula hoop, etc... In The Grandpa Book, some grandpas collect things, some ride in wheelchairs, some put extra marshmallows in your hot chocolate, etc...

Both feature Parr's trademark simple, brightly colored illustrations that mimic children's drawings. And both books end with a reminder to tell your own grandma or grandpa that you love them!  
School Library Journal rightly called these books  "Good additions to any collection and wonderful choices for a storytime."

Interest Level:  Preschool - 1st grade


See inside
Here are sample pages from inside these book. You can see how these simple, bright, energetic illustrations would appeal to children!  The first three pages are
from The Grandma Book...




...and the next three pages are from The Grandpa Book.  Some pages are more busy than others, but all have just one sentence about grandmas/grandpas plus a fun illustration to go with it.


Where to now?
Now that you've seen this great book, what would you like to see now?  Please note that as an Amazon Associate, we earn from qualifying purchases.

---

You may also want to check out other books by Todd Parr, such as those shown below. To learn more, click on the book covers below or the author's name above.