The Go Around Dollar

by Barbara Adams & Joyce Zairns

Experience a day in the life of a dollar bill as it travels from person to person, starting with Matt, who finds the dollar on the way home from school. He uses it to buy shoelaces from Eric, who then uses the dollar to buy bubble gum.
The dollar's journey continues until finally, it is put in a picture frame as the first dollar earned at a new store.

Interwoven with the story are many interesting facts about our paper currency and blown up pictures of  bills. This is not our top pick in this category, it fits the bill for teaching money, especially dollars. Indeed, School Library Journal called it "sound information to help youngsters understand the basics about our paper currency."


Reading Levels
Interest Level:   Kindergarten - Grade 3              DRA Level:  38      
Grade Equivalent:  4.9                                          Lexile Measure: 680L


See inside
Below are two sample spreads from inside The Go Around Dollar.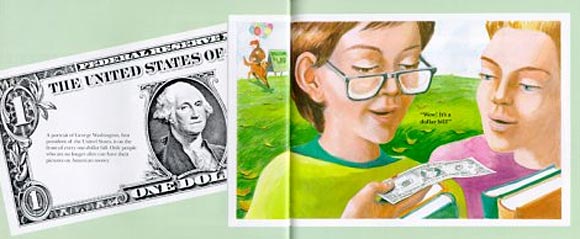 Where to now?
Now that you've seen this great book, what would you like to see now?  Please note that as an Amazon Associate, we earn from qualifying purchases.