The Dinosaurs of Waterhouse Hawkins

written by Barbara Kerley; illustr. by Brian Selznick
The Dinosaurs of Waterhouse Hawkins is a fascinating picture book biography of a man named Waterhouse Hawkins--a scientist and artist who loved to draw and sculpt dinosaurs and was commission by Queen Victoria to build the first life-size dinosaur models from scientific fossils (many still standing in England today!)
Kerley captures the all-consuming passion and courage of Waterhouse Hawkins and Selznick's stunning, highly detailed illustrations make this book is a real standout. The pages of this book are full of colorful, detailed illustrations, effective use of varying perspectives, and suspenseful layouts.
You don't need to be teaching about dinosaurs to integrate this book into your science curriculum. In fact, one of the things we love most about this book is that it does an excellent job of showing children how opening yourself up to a little scientific curiosity can bring about great adventures and passion!


Reading Levels for this book

Interest Level:  Grade 3-6             DRA Lexile: 40                   Lexile Measure:  550L
Grade Equivalent:  3.3                 Guided Reading:  S


Awards Won by this book

- Caldecott Honor Book 2002
- National Science Teachers Association Outstanding Science Book 2002   
- National Council for Social Studies Notable Social Studies Book 2002
- National Council for Teachers of English Honor for Outstanding Nonfiction
- American Library Association Notable Children's Book 2002


Inside The Dinosaurs of Waterhouse Hawkins

Below are sample pages from inside this amazing book.  Fans of Selznick's other stunning works  (ie: The Invention of Hugo Cabret and Wonderstuck) will be delighted with this offering. And, of course, dinosaur buffs will certainly be thoroughly enthralled with this title!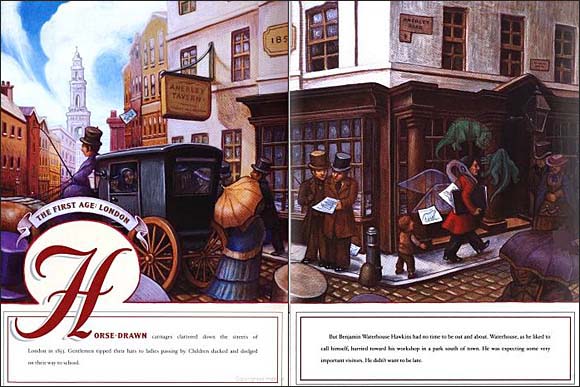 ---
This is a great book, but if it's not exactly the book you are looking for, you can see: