The Dandelion Seed
by Joseph Anthony
illustrated by Cris Arbo
The Dandelion Seed is a surprisingly touching story of a little seed that won't let go because it's afraid of the world. Soon, the winds blow it free and it learns that the world is full of challenge, wonder and beauty. Eventually, it lands, grows, casts its own seeds, and eventually finds itself reassuring one scared little seed that the sun, the wind, and the rain will take care of it.
This beautifully simple book teaches about seeds, cycles, and courage. This is one of our favorite books. Arbo's illustrations pull the reader in and the story is so compelling your kids will never look at dandelions the same again!
This exceptional and beautifully illustrated children's book won the prestigious Publishers Association Award for Picture Books in 1998.  We agree wholeheartedly!

Interest Level:  Preschool - Grade 4      
      

See Inside The Dandelion Seed:

Below are pages from inside this poetic, educational, and beautifully illustrated book: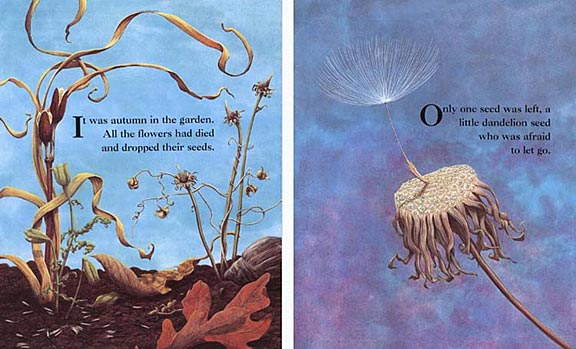 Please note that if you purchase an item from Amazon, they give us a small referral fee. And that helps us cover the costs of this website.


---



This is a great book, but if it's not exactly the book you are looking for, you can see:
---