The Completed Hickory Dickory Dock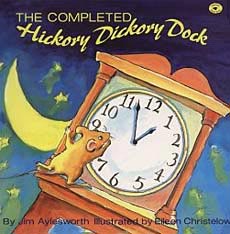 by Jim Aylesworth
illustrated by Eileen Christelow
What happened to the mouse in Hickory Dickory Dock after the clock struck one? Jim Aylesworth completes the tale (hence the title) in this high- energy tale that follows the mouse throughout the rest of the day. Cute and funny!  If you are reading this book with children who are learning to tell time, be sure to point out the clock visible in each spread.
School Library Journal ended its review with, "What Mother Goose began, Aylesworth and Christelow have completed in an appealing book that begs to be read aloud."

Interest Level:    Preschool - Grade 3

See Inside This Book

Below are sample spreads from inside The Completed Hickory Dickory Dock. (The first spread reads: "Icicle, bicycle, bert. The mouse had pie for desert. The clock struck eight, He licked the plate. Icicle, bicycle, bert.")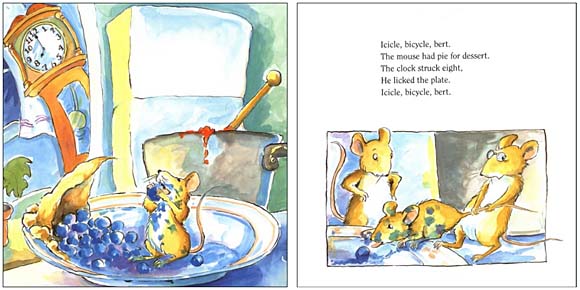 Where to now?
Now that you've seen this great book, what would you like to see now?  Please note that as an Amazon Associate, we earn from qualifying purchases.