The Clock Struck One:
A Time-Telling Tale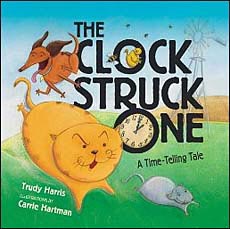 by Trudy Harris
illustrated by Carrie Hartman
A high energy, barnyard take on the classic Hickory Dickory Dock, featuring one determined cat chasing a mouse throughout one long day. And to add to the chaos, more animals and people join in the chase as well. 

Each spread features a clock that shows the hour (up to 1am), making this a fun supporting title to use in the classroom if you are teaching telling time to young ones. A few pages at the back of the book teach basics of telling time. A fun overall selection.


Reading Levels
Interest Level: Preschool - Grade 2                 Lexile Measure: 640L


See inside
Sample pages from inside The Clock Struck One.  We love the bright pastel illustration in this book!  In case you can't read the text, we've rewritten them above each spread.  

Spread one: "Hickory dickory dock, a mouse ran up the clock. The clock struck ONE. He said "What fun!" (But the mouse was in for a shock.)"


Spread two:  "Hickory dickory doo, the grandfather clock struck TWO. It woke the cat, who sprang from his mat, hungry for mouse-tail stew."



Spread three:  "Hickory dickory dee, the short hand pointed to THREE. "I'll
search the house to find that mouse in time for my afternoon tea."


Where to now?
Now that you've seen this great book, what would you like to see now?  Please note that as an Amazon Associate, we earn from qualifying purchases.