The Cat's Pajamas by Wallace Edwards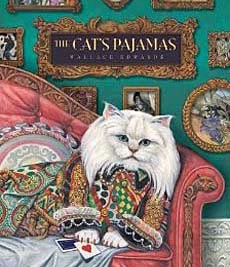 The Cat's Pajamas is a fanciful, often surreal, and always humorous collection of illustrations depicting literal depictions of idioms (like: 'having a frog in one's throat', a task being 'a piece of cake', etc). An explanation of each idiom is included at the end. School Library Journal rightly called the illustrations "patently ridiculous" but also promises that "this is a useful book to introduce [idioms] to older kids" who will be able to tease out the meanings a bit more easily than younger children.

This is actually Wallace Edward's second book of elaborately illustrated illustrations of idioms (other book).
Interest Level:    4th grade - 7th grade
We realize it's hard to read the text on these small sample pages. To give you an idea of the text, here's what the first image reads: "On the day of his art show, Vincent was so nervous he didn't know if he was coming or going." The work of art carried by Vincent shows himself going in the opposite direction.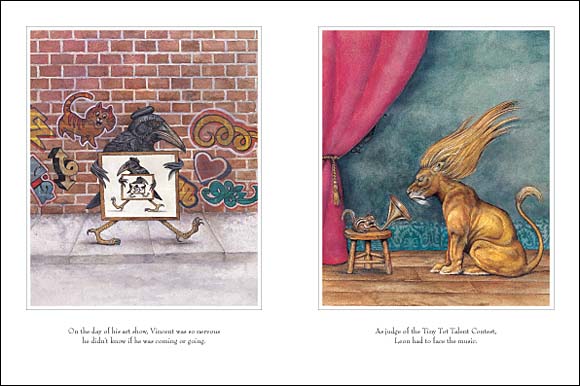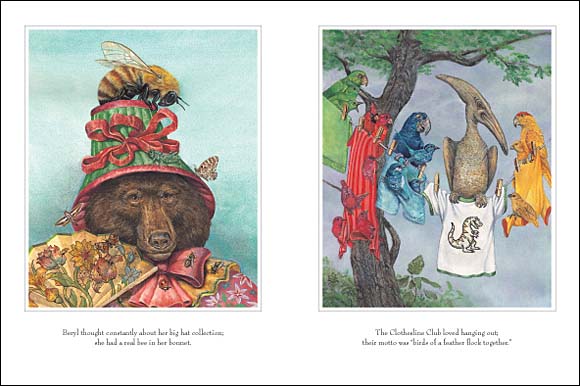 Where to now?
Now that you've seen this great book, what would you like to see now?  Please note that as an Amazon Associate, we earn from qualifying purchases.
Don't forget to check out our...

sale language arts books: just $2.75 each


These books are used but in great shape!  Kids are hard on books. Don't waste your money on new, pristine books that will stay pristine for 5 minutes. Our used [but still very good] book sets are a perfect middle ground.