The Bug Book
(Grammar Tales Series)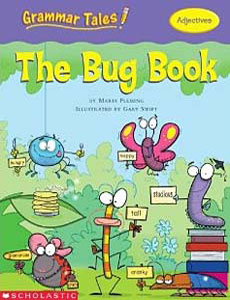 by Maria Fleming
illustrated by Gary Swift
We like this book. :)  It's a simple but effective teaching tool for really showing how adjectives make writing / stories more interesting. 
The premise is simply and cutely executed: a collection of different kinds of bugs with different personalities and attributes (thus requiring different adjectives).  And, the rhythmic text makes for a fun addition.


Reading Levels
Interest Level:  Kindergarten - Gr. 2                   Lexile Measure: 660L 
Grade Level Equivalent: 3.1


For teaching adjectives
When we first read the book, we leave out the adjectives and just say "bug, bug, bug", over and over (pointing to the different bugs)... until all the kids have that "what's going on?" look on their face. (We generally only do this for the first few pages). Then we stop and have a little mini lesson, talking about how:

that was kind of boring
maybe it needs more information about the bugs
adjectives give information and make writing more interesting, etc... 
lets see if adding adjectives makes the book more fun/interesting
Then we re-read the book as written. And after reading it, we ask for ideas of writing topics and as a class, come up with adjectives they could use (bear -- sleepy, scary, black, tiny, fuzzy...)


See inside
Below are sample spreads from inside this book. Kids love the cartoony style of illustrations. :)  To see larger versions of these pages, click on the images.



Please note that if you purchase an item from Amazon, they give us a small referral fee. And that helps us cover the costs of this website.


---