The Body Book:


Easy-to-Make Hands-On Models that Teach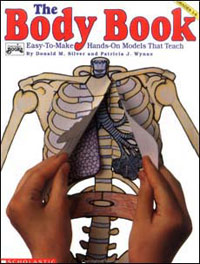 by Donald Silver
illustrated by Patricia Wynne
We can't say enough about this fantastic book!  It's a teacher's dream. :) This title is comprised of fully-reproducible handouts that enable students to create their own paper models of the human body. Each set of handouts focuses on a particular section of the body, and students color, cut out and put together the parts being highlighted.


Some teachers build their entire unit around this book, with students combining their models at the end of the unit to create their own large model of the human body. The fact that each student physically assembles his or her own model really helps to deepen their understanding of how the systems work, where they are located in the body, and how they interact with one another.

Interest Level:  Grade 4-7                      


See inside
Below is a close up of the illustration on the cover. This image was taken after handouts of different parts of the body were colored, cut out, and put together to create a large interactive model of the human body and its organs.  Although it's not done in this illustration, we recommend you have students neatly label the parts of the body as well.

For a peek inside the book, check out the "Look Inside" feature on the Amazon website (click the link below, then click "buy this book" link under the book cover.) Basically, the book is comprised of the different handouts (like above) and directions for each section, plus some extra information about the portion of the body being discussed.


Please note that if you purchase an item from Amazon, they give us a small referral fee. And that helps us cover the costs of this website.


---