The Big Dipper

(Let's Read & Find Out Science)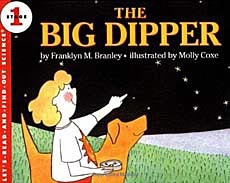 by Franklyn Branley
illustrated by Molly Coxe
This Let's Read and Find Out Science title is a kid-friendly introduction to the Big and Little Dippers, with everything explained in Branley's trademark clear text and then made even more clear via Coxe's simple but appealing illustrations (which appear to be drawn and colored in, then cut out and placed on top of a black background.)
Students learn a great deal about these constellations, including:
   - why they are called 'dippers' and also Ursa Major and Ursa Minor
   - how to use a compass to find them
   - how they change with seasons
   - how to find the North Star from them

The AP called this book an "excellent introduction to the night sky and star gazing", praising its simplicity and stating the best part of the book is the "high percentage of success a young reader would have following its directions."

For ideas on using this book in the classroom, click here: Big Dipper lesson ideas
Reading Levels

Interest Level:  K-Gr. 2              DRA Level: 16                Lexile Measure:n 460L
Grade Level Equiv: 2.5            Guided Reading: I

See Inside This Book

Below are sample spreads from inside this book.


Where to now?
Now that you've seen this great book, what would you like to see now?  Please note that as an Amazon Associate, we earn from qualifying purchases.

---


If you like this one, there are more Let's Read & Find Out Science series books. We really like this series. The authors and illustrators do such a good job of taking complex science subjects and putting them into kid friendly doses and language!  They are definitely worth checking out. You can learn more about this great series of books by clicking on the book covers below or the link above.