The Big Book of
Dinosaurs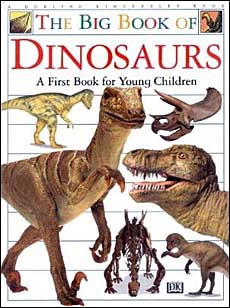 A First Book for Young Children
by DK Publishing
Befitting a book on dinosaurs for kids, this title is big in every way--oversized format, oversized fonts, two-page spreads...
The text is simple and accessible, focuses on general topics (how they lived, how they found food, how they protected them- selves, including camoflauge techniques, etc...) rather than specifics about each individual species. The color photographs of dinosaur replicas are so detailed and sharp that dinosaur fans will be captivated!
School Library Journal said, "One can't miss this book, not only because its gigantic, but also because it's gorgeous."  And unlike most DK books, this book on dinosaurs for kids would be great as a read aloud.


Interest Level:    Grade 2  and Up


See inside:
Below are sample pages from inside The Big Book of Dinosaurs:


Where to now?
Now that you've seen this great book, what would you like to see now?  Please note that as an Amazon Associate, we earn from qualifying purchases.