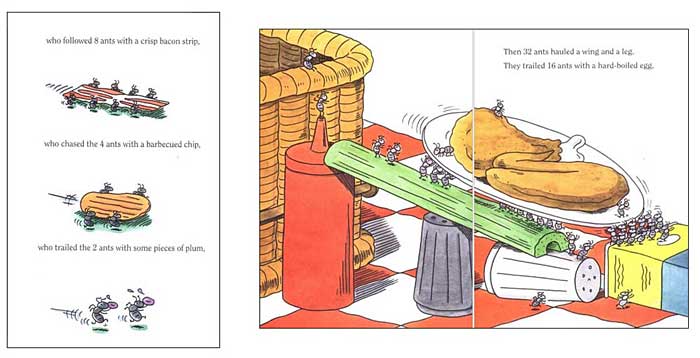 The 512 Ants on Sullivan Street

Hello Math Reader, Level 4
by Carol Losi
illustrated by Patrick Merrill

Just as a little girl and an adult lay out a picnic, one ant sees them through a telescope and heads over for a bite to eat. Before long, two ants are on the scene, then four, then eight, and so on and so on. The number of ants keeps doubling and doubling until finally there are 512 ants at the feast. Readers will be amazed how quickly the number grows!

This book was written specifically to teach math. It can be used to teach:

addition -- this wouldn't necessarily be our top pick for addition lessons, but it's still good.  There are fun extension activities (described below) that actually make it pretty easy to turn this book into a whole lesson.

doubling -- this book clearly demonstrates how huge a number can get when it's doubled just nine times

multiplication -- this is a great pick for early lessons on multiplication

The story is written in the cumulative format (like in the popular book There Was An Old Lady Who Swallowed a Fly).  Personally, we find cumulative tales a little tedious, but the kids always seem to love them. Guess that's the point, right?

We agree with Booklist, who said the "bright, cartoon-like art will keep children's interest despite the purposeful, pedagogical underpinnings of the story."  If you are using it to teach math (as opposed to reading just for pleasure), be sure to check out the suggested math activities (more on that below).
Reading Levels

Interest Level:  Kindergarten- Gr. 3
Grade Level Equivalent: 2.5
DRA Level: 20
Guided Reading: L
The publisher states that this book is for Preschool - 2nd grade, but we've bumped it up to Kindergarten-3rd grade (including 3rd grade in there because in the US, that's when multiplication is generally introduced).


See Inside The 512 Ants on Sullivan Street

Below are sample pages from inside this book. We'll work on getting more sample pages...and larger versions. But in the meantime, this should give you an idea of the interior of this book.  For more sample pages, click on the Amazon link below and then use the "look inside" function.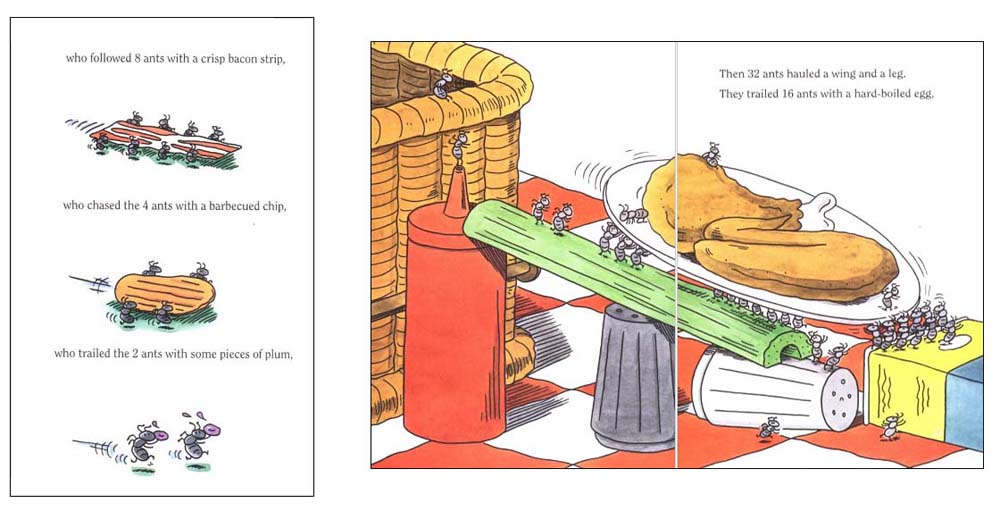 To learn more about this book, click the link below.  Please note that if you purchase an item from Amazon, they give us a small referral fee. (This helps pay for site hosting costs, thus allowing us to keep everything free for site visitors!)

Activities to go with The 512 Ants on Sullivan Street

There's a big section at the back of the book that's FULL of fun extension ideas to use with this book -- all written by Marilyn Burns (a well know math curriculum writer).  If you read this book aloud to your class, be sure to show them this page from the back. It really visually drives home the point about how quickly the numbers grew!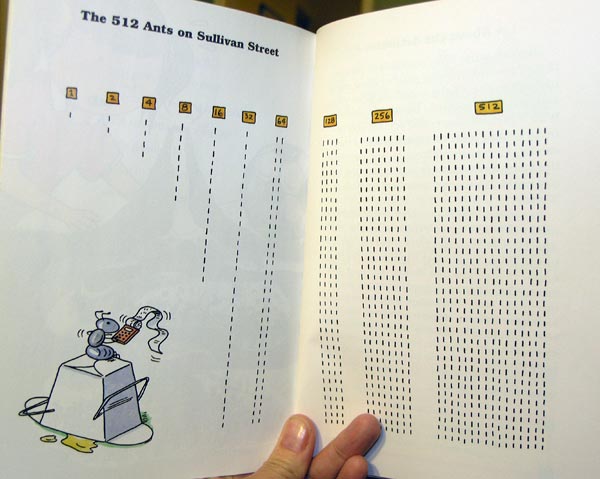 Here's another sample page from the back of the book. In total, there are 9 pages of suggested activities, discussion topics, and extra illustrations.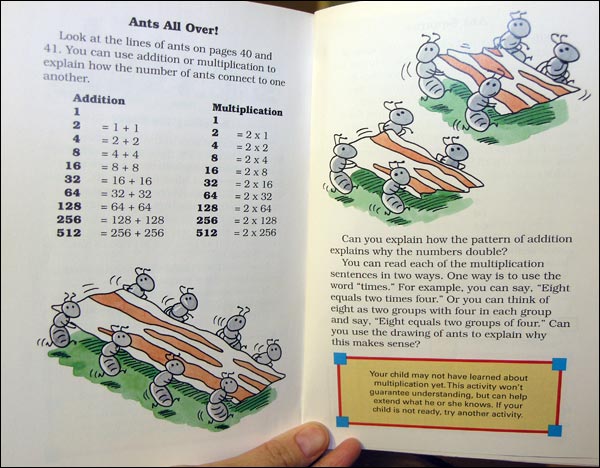 Or, to learn more about this particular book, click the link below to visit this bookpage on Amazon.com.  Please note that if you purchase an item from Amazon, they give us a small referral fee. (This helps pay for site hosting costs, thus allowing us to keep everything free for site visitors!)

Check out our other books for teaching addition or multiplication:



---