The 5,000-Year-Old Puzzle:

Solving a Mystery of Ancient Egypt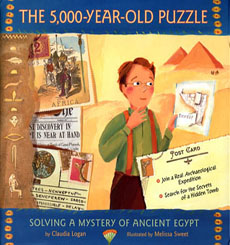 by Claudia Logan
illustrated by Melissa Sweet
This fun title written by  is an account of the famed 1924 archaeological expedition at Giza, as told through the eyes of a fictional young boy invited to participate. Logan works in a mystery, with the young boy helping the crew solve the mystery of a missing Egyptian mummy.

The story provides an engaging window into what archaeological expeditions are really like (ie: the painstaking work!) The mystery is only partly solved in the end, which is fitting given that archaeological endeavors often produce more questions than answers. We LOVE the format--a mix of pretend postcards and journal entries, fact-filled sidebars, actual photos and newspaper accounts from the real Giza expedition, charming illustrations by Sweet.
This book was a 2003 National Science Teachers Assoc Outstanding Social Studies Book!


Reading Levels
Interest Level: Gr. 3-5                  DRA Level: 34                Lexile Measure: 900L
Grade Level Equiv: 5.9               Guided Reading: O


Peek Inside
Below are sample pages from inside The 5,000-Year-Old Puzzle.  As you can see, some are laid out in scrapbook format (with documents, photos and drawings from the expedition), some feature one large illustration, and some are a little of both. All together, the presentation is fabulous and your students will definitely want 'solo reading' time to pour over the small details.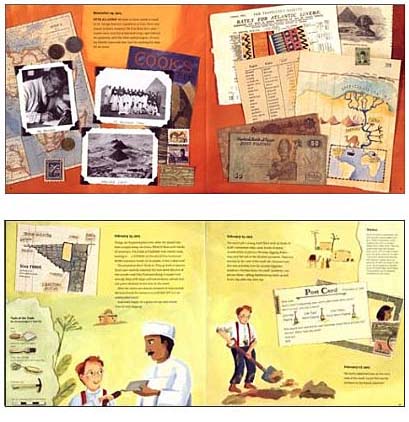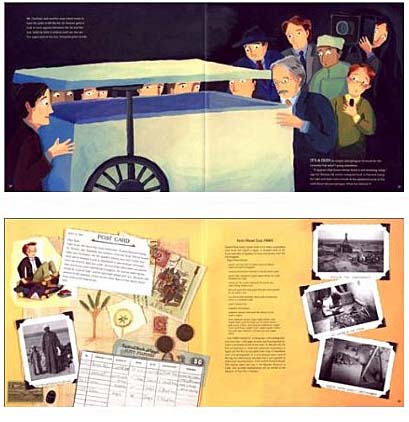 books on archaeology for kids      or      books on ancient Egypt for kids