Tessa's Tip-Tapping Toes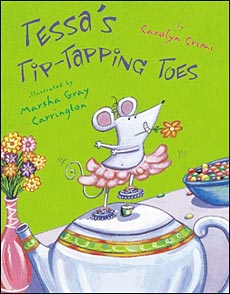 written by Carolyn Crimi
illustrated by Marsha Carrington
Despite her mother's dismay, Tessa the mouse can't stop her little mouse toes from tip-tapping away.  All she wants to do is dance, dance, dance. In the same house, a cat named Oscar just can't stop singing, despite the pleas of his owner to stop and his earnest efforts to hold in his songs.
One rainy day, the toe-tappin' mouse and the caterwauling cat meet and the two start up an infectious song and dance that soon has everyone joining in.
This book does not have the highly alliterative text that most of the other books on our 'teaching alphabet letters' list, but there is a lot of words starting with the letter T so this book could be a lot of fun for that purpose. Plus, the whimsical, vibrantly colored illustrations and the endearing little mouse and cat make this title a hit with kids!  Publisher's Weekly called this book "the cat's meow." We agree!
Reading Levels

Interest Level:  Pres-Gr. 2           DRA Level:  20                  Lexile Measure: 390L
Grade Level Equiv:  2.9              Guided Reading:  L

See Inside This Book

Below are sample spreads from inside this book.  To see larger versions of these spreads, simply click on the images or click here.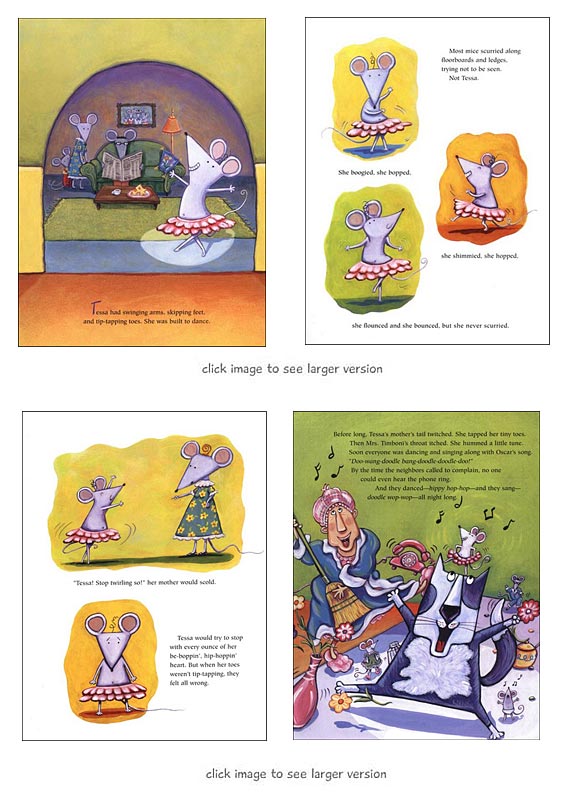 Where to now?
Now that you've seen this great book, what would you like to see now?  Please note that as an Amazon Associate, we earn from qualifying purchases.