Ten Black Dots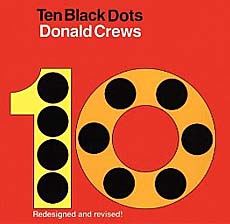 by Donald Crews
This is a time-worn classic for teaching counting has been a part of early grades classrooms for decades. The premise is simple: illustrations that integrate increasing numbers of black dots (ie: "5 dots can make buttons on a coat or the portholes on a boat.")


We recommend the redesigned, updated edition over the original 1968 version.
Related Activity
After reading this book aloud, your kids will love making their own black dot pictures!  And it's so simple.  We give each child their own "book" consisting of 4 sheets of regular white paper stapled together (not folded over -- they seem to need the whole 8.5 x 11 space when creating pictures with the circles.) 
First we have them write My Black Dot Book on the front, and then we set them free to create their own black dot pictures on the remaining pages. We provide the little black dots pre-cut from construction paper (cut out with a circle punch -- we LOVE circle punches. We find we use them all the time!!) 
If they are firsties, encourage them to write the sentence that goes with the picture -- "# dots can make _____".  In our experience, most kids get through 3 pictures before they lose interest  :)  so that's why we keep our book to four pages total.  You can easily staple on an extra page or two for fast finishers who want to keep going.


Reading Levels
Interest Level: PreS-Gr.1        DRA Level: 10               Lexile Measure: 270L
Grade Level Equiv: 1.4           Guided Reading: F


Peek Inside
Below are two sample spreads from inside this book.