Telling Time with
Big Mama Cat

by Dan Harper
illustrated by Barry & Cara Moser
A big mam cat narrates this story, explaining that "some people think cats don't know much-but I, Big Mama Cat, know how to tell time. How else could I keep my busy day on schedule?" Readers quickly discover the irony in this assertion, as illustrations reveal that her busy day consists of napping, eating, or waiting to do one or the other. 

Clocks showing the times referred to in the text are visible on every page and can be supplemented by a clock with moveable plastic hands (part of the front cover). Publisher's Weekly ended their review by saying, "Big Mama Cat will likely succeed in teaching young cat lovers to clock their days with confidence."


Reading Levels
Interest Level:  Kindergarten-Grade 2                DRA Level: 16
Difficulty Level:  ages 4-8                                     Lexile Measure: 440L   


See inside
Below are sample pages from inside Telling Time with Big Mama Cat: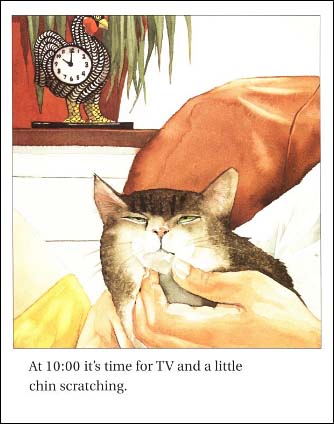 Where to now?
Now that you've seen this great book, what would you like to see now?  Please note that as an Amazon Associate, we earn from qualifying purchases.