Sparrow Girl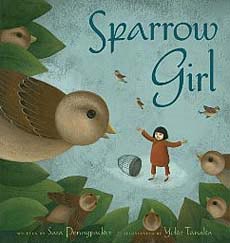 written by Sara Pennypacker
illustrated by Yoko Tanaka
Based on a real event, this story shows what can happen when a food chain is disrupted. In 1958, China's leader proclaimed a 'war on sparrows' for eating the nation's wheat. He ordered all sparrows be killed, which then led to an explosion in locusts, which decimated the nation's wheat fields.

This story imagines a girl secretly saving some of the sparrows from being killed, then releasing them in time to save the crops, thus showing the sparrows' vital role in the food chain.
This true story teaches many powerful lessons, most notably (1) how vital each animal is in an ecosystem's food chain, (2) what can happen when we think we can know better than nature and undertake activities that disrupt the natural food chain, and (3) the power of one person to make a difference. And...Tanaka's illustrations are really quite unique and adorable.

Teachers: In case you want to supplement a read aloud with some facts about the actual event--China's sparrow war--you can find more information here.
Interest Level: Kindergarten - Grade 4                  Lexile Measure: AD590L 
See Inside This Book

Below are sample spreads from inside this book. In the first spread below, young Ming-Li is told that she must use the firecrackers to help scare away the sparrows from the land. She protests, saying she likes the sparrows. In the page on the right, Ming-Li is shown with the sparrows that she has saved.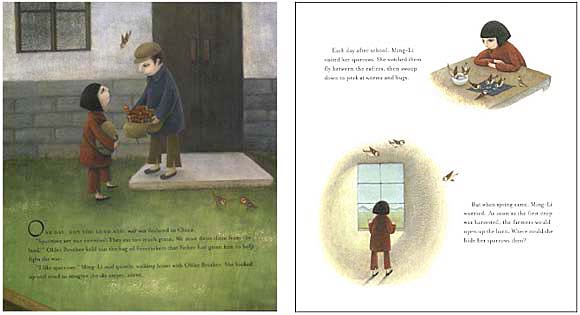 This spread shows Ming-Li overhearing the village men lamenting about the locust infestation and the resulting famine.



Lastly, this page shows Ming-Li trying to explain to the men how chasing away the
sparrows caused the locust population to get out of balance.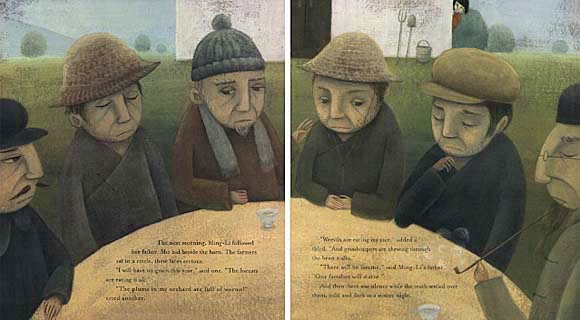 Please note that if you purchase an item from Amazon, they give us a small referral fee. And that helps us cover the costs of this website.


---