Spaghetti and Meatballs for All
 
A Mathematical Story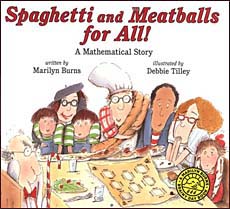 Spaghetti and Meatballs for All
by Marilyn Burns
illustrated by Debbie Tilley

Mr. and Mrs. Comfort are holding a family reunion and have planned every detail-- from the delicious spaghetti dinner to the perfect seating arrangements with enough tables and chairs for all.

But when their relatives arrive, they move everything around, assuring a frantic Mrs. Comfort that there will be plenty of room.  Mrs. Comfort knows understands area and perimeter, so she knows better. Will they have enough seats?
This is a great title for teaching geometry lessons on area and perimeter. Although it's fictional, the story does show how knowledge of geometry can be useful in practical problem solving. One note: we recommend you stop and and emphasize the geometry concepts as you come across them, as there's a lot going on and some kids may miss the math lesson entirely is you do not.


Reading Levels
Interest Level: Gr. 2-4             DRA Level:  34                Lexile Measure:  420L
Grade Equivalent: 3.5            Guided Rdg Level:  O

See Inside
Below are sample pages from inside the book, showing how very busy the pages area and how much text there is. In these pages, a frustrated Mrs. Comfort again watches as chaos ensues. Her table layout has been destroyed and the guests are running amok.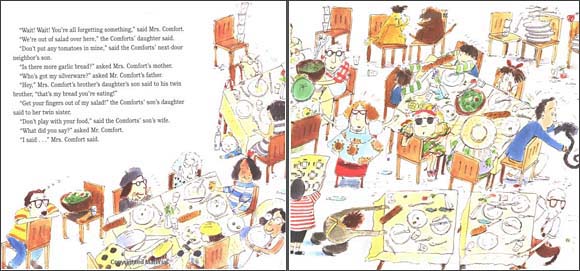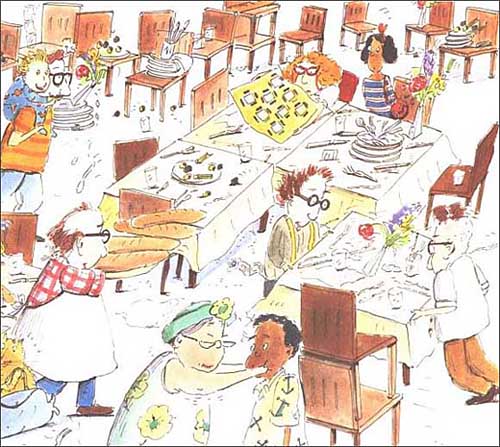 Plus the back of the book includes suggested activities and discussion points: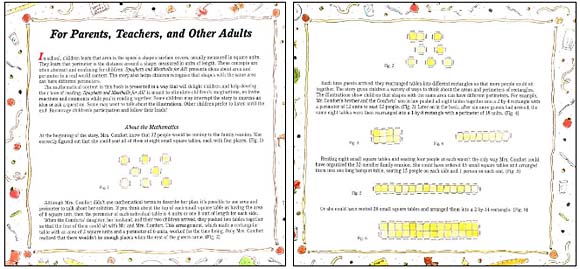 ---
Or see other books on our page of best books for teaching geometry: