Some Smug Slug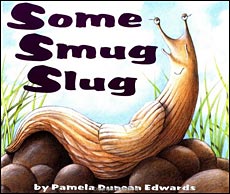 by Pamela Duncan Edwards
illustrated by Henry Cole
A sparrow, a spider, and other "s animals" all try to warn a smug slug who is determined to climb a slope. It is only when the slug gets to the top that the reader learns the reason---the slope is actually the back of a frog! 

For added fun, illustrator Henry Cole hid an "S" shape in each picture. And he managed to make the smug little slug quite likable. In fact, in its review, School Library Journal said "This slug is so appealing and full of personality that it will certainly garner sympathy."
This book is full of 's' words and is therefore quite useful to use when teaching the letter S. Our main concern is that there are quite a few obscure/advanced words. For example, one page said the snail's "sleek skin was soft like shantung." We'd be mightily impressed with any kid who has even the slightest clue what shantung is!  I wonder why the author didn't just say silk (which is what shantung is)--also an S word and also possibly a new word for some children. Introducing new words via picture books is a great way to build vocabulary, but in our (humble) opinion, there are too many obscure words here.

Still, if you are teaching the letter S, this is a good book to read to your students. Just slip in your own words here and there in place of the high level/very obscure words. Or be prepared to stop and provide a short definitions now and then to avoid losing some students.
Reading Levels

Interest Level: K-Gr. 2            Grade Level Equiv:  3.8               Lexile: 620L
See Inside This Book

Here's a spread from inside the book, showing the sparrow warning the little slug against climbing up the slope. Since the plot is basically a series of 's' word animals either warning the slug against climbing the slope or watching him climb in dismay, most spreads in the book resemble this spread in both the amount of text and illustration format.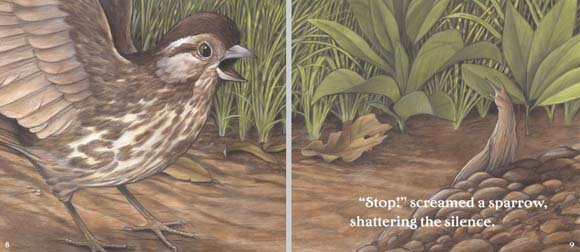 Please note that if you purchase an item from Amazon, they give us a small referral fee. And that helps us cover the costs of this website.


---