So You Want to Be President

by Judith St. George
illustrated by David Small
So You Want to Be President is a lively, quirky title full of brief histories, trivia, anecdotes, successes and failures, and funny facts that show the human side of our presidents (while remaining respectful).
St. George provides interesting comparisons, anecdotes and trivia, and Small's lively caricatures add fun and interest.  Extra pages at the end list presidents in order, with a sentence or two about each.
What a fun book!  Children will catch the jovial spirit of the book and the message that presidents come in all shapes, sizes, and backgrounds.
Teachers and parents can use this book to start discussions on what qualities are and aren't important in a great President. It goes without saying that this book is great for teaching about our American presidents (esp given the helpful extra material at the back) but don't forget this gem on President's Day as well!
This book deservedly won a number of children's book awards and accolates, most notably:
   - Caldecott Medal 2001
   - New York Times Notable Children's Book 2000
   - Publishers Weekly Best Book 2000


Reading Levels for this book

Interest Level: Grade 2+          DRA Level: 40                 Lexile Measure: 730L
Grade Equivalent: 4.2             Guided Reading:  S


See Inside So You Want to Be President

Below are sample illustrations from inside this book.  David Small has created entertaining, funny illustrations of the presidents without being disrespectful.  While we understand these small pages may be a bit hard to read, they should give you an idea of the illustration style and the amount of text per page.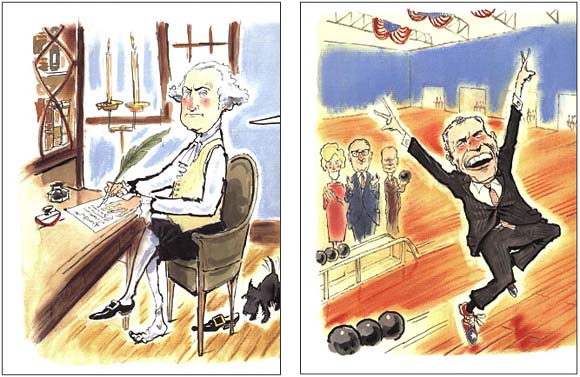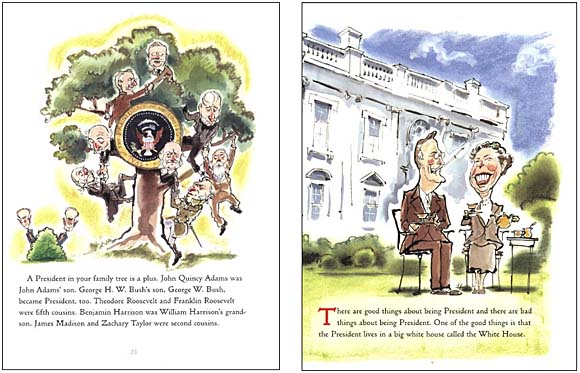 ---

This is a great book, but if it's not exactly the book you are looking for, you can see:
see other books illustrated by David Small

list of the best Presidents' Day kids books