Snow
by Uri Shulevitz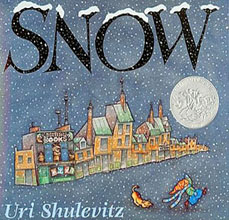 A whimsical title from the author of How I Learned Geography. In this simple story, hurried adults pay no attention to the falling snow, but a little boy and his dog watch and wait eagerly for snow to "amount to something". When it does, they run out and thoroughly enjoy it!

We read this on the first snowy day of winter, when kids can relate to the boy's excitement. The quirky illustrations are a delight! The story is simple and the text is sparse, but the experience is "pure enchantment from start to finish." (Publisher's Weekly)


Awards Won
 - Caldecott Honor 1999
 - American Library Association Notable Children's Book
 - New York Times Outstanding Books of the Year
 - Society of Children's Book Illustrator's Golden Kite Award
 - Booklist Best Children's Books of the Year List
 - Publisher's Weekly Best Children's Books of the Year List
 - School Library Journal Best Children's Books of the Year List


Reading Levels
Interest Level: K-Gr. 1       Grade Equivalent: 1.5          Lexile Measure: 220L


See inside
Below are sample pages (not in order, just a sampling). As you can see, the text is minimal and the emphasis is on the quirky, whimsical illustrations.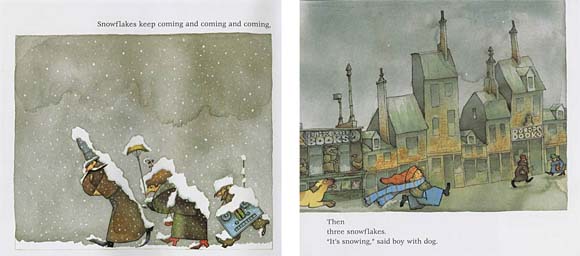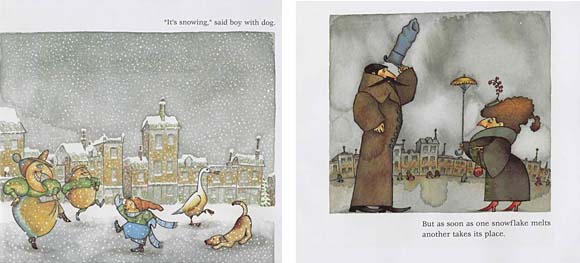 Where to now?
Now that you've seen this great book, what would you like to see now?  Please note that as an Amazon Associate, we earn from qualifying purchases.

---
If you like this book, check out the other great children's books by Uri Shulevitz.  Some of them are shown below. Click for more details.