"Slowly, Slowly, Slowly,"
said the Sloth

written & illustrated by Eric Carle
"Slowly, Slowy, Slowly," said the Sloth's bright, beautiful collage illustrations, unique tropical setting, and gentle message of accepting our differences make it one of our favorite Eric Carle books!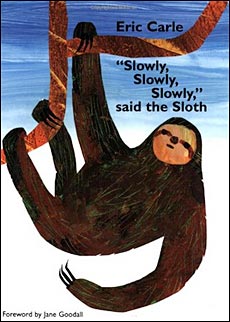 No matter what he's doing, the sloth moves "slowly, slowly, slowly." The other rain forest animals watch him in disbelief, some even asking why he is so slow, so quiet, so boring.
But the sloth doesn't respond. It isn't until the jaguar asks him why he's so lazy that the sloth responds with a barrage of adjectives describing himself, and then says "I am relaxed and tranquil, and I like to live in peace. But I'm not lazy. That's just how I am. I like to do things slowly, slowly, slowly."
This is a great book about accepting yourself and others and a helpful book for teaching the letter 's'. The text is not necessarily written for that purpose (ie: it's not highly alliterative like the others on the 'teaching language arts' list) but it still has a lot of words starting with the letter S. And, set in the tropics and teaming with tropical animals (including a final spread with illustrations of dozens of tropical animals), this is also a great title for science units on habitats.

Interest Level:  Preschool - Grade 1           Lexile Measure: AD410L
See Inside This Book

Here are three sample spreads from the start of this book. To see larger versions of these spreads, simply click on the images.



Please note that if you purchase an item from Amazon, they give us a small referral fee. And that helps us cover the costs of this website.


---