Slide and Slurp,
Scratch and Burp

Slide and Slurp, Scratch and Burp:
More About Verbs
written by Brian Cleary
illustrated by Brian Gable

Building on the previous book about verbs (To Root, To Toot, To Parachute), this book delivers even more examples of verbs and is full of the zany illustrations fans of the series have come to expect.
Clearly works definitions and information about verbs into his rhyming text so that students sometimes don't even realize that they are actually listening to a definition. :)

For example: "Each sentence has a subject--it's kind of like the star. It's what the whole thing is about: Dave's dish, Mom's look, Todd's car. Subjects always need a verb--it's what makes fishes swim, and lanterns light and writers write and clippers cut and trim."

There is no duplication between the two books, so teachers who have the first verb book and would like additional material about teaching verbs will be glad to get this one too!
Reading Levels

Interest Level: Grade  2-4                Lexile Measure: 880L
See Inside

Below are two spreads from inside the book. Those familiar with the series will certainly recognize this format.  The page just prior to this first one said "Verbs give sentences their action." These pages then give examples of what that means.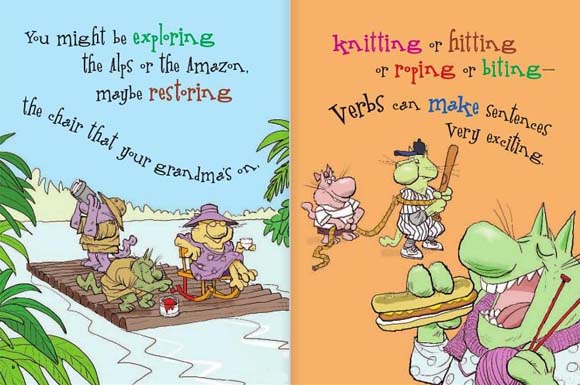 Please note that if you purchase an item from Amazon, they give us a small referral fee. And that helps us cover the costs of this website.


---
If you like this book, check out the other Words are Categorical books. Kids love 'um, and they really are helpful when teaching different phonics / language art topics. (And there's a Math is Categorical line of books as well!) To learn more about these books, click on the book covers below or the link above.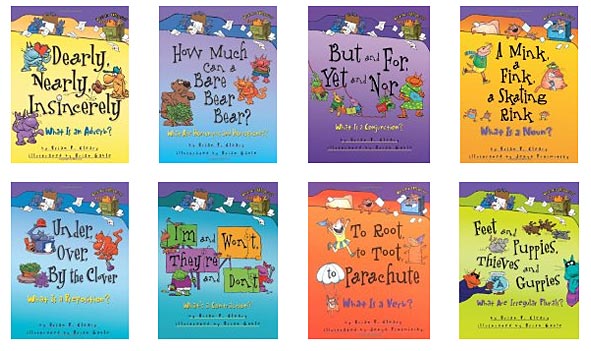 ---